Wondering how well your blog's content is performing? And unable to find out whether your visitors are finding your blog posts useful and engaging? Then probably you must go beyond just tracking the regular Bounce Rate or Time-On-Site metrics. It's time to include a more reliable metric into your web analytics tracking system to reveal the effectiveness of your content strategy. It is the dwell time metric.
In this post, we'll dig a little deeper and try to understand this metric in detail. We'll find out how this metric will enable you to optimize your blog's content and help you build a loyal tribe of followers.
What is Dwell Time?
In simple terms, the dwell time is the amount of time that a visitor spends on a web page before moving on to another web page within the same site or carrying out an action on the site or simply leaving the site. The higher the dwell time the better! Obviously, a longer dwell time indicates that your content is engaging and useful to the visitors. This Bing blog states that "..short page dwell times can indicate the content is not capturing the visitor's interest. Something about the content is not grabbing their attention."
Dwell time is a critical website metric that will help you determine the session duration, user engagement, and the Click-Through-Rates from the search engine results pages (SERP). This user-based metric is closely measured by Google to help rank websites in the SERPs. Now it goes without saying how crucial this metric is for website owners if they really want their website to rank high in the Google search results.
Is it easy to track dwell time?
Tracking dwell time metric can get a bit tricky. Many marketers confuse this metric with "session duration" or "time on page" and also try to combine both of them. But actually, they both are two unique metrics. The bounce rate metric is another common metric that's confused with the dwell time. But interestingly, the dwell time is closely related to both these metrics. It is derived by adding up the session duration and bounce rate. "Dwell time, in a sense, is an amalgam of bounce rate and time-on-site metrics", writes Dr. Peter J. Meyers at Moz.
Being a hard-to-access metric, it may be difficult to come up with an accurate formula to calculate the dwell time. But if your analytics tool shows a low bounce rate, good session duration, and a fantastic click-through-rate from the search results, then these three metric figures collectively point to a high dwell time.
Does dwell time affect your search engine ranking?
Yes, at least that's what marketing thought leaders and influencers claim. According to Dr. Peter J. Meyers at MOZ "There are two user metrics that both Google and Bing have direct access to: (1) SERP CTR, and (2) "Dwell time", and I think those two metrics can tell them a lot about your site."
Google usually remains reticent about any metric that they incorporate into their ranking algorithm. But the introduction of a "blocking" feature in the search results and subsequent withdrawal of it is a strong indicator that Google uses dwell time metric (or something similar) as a ranking signal.
Here's how the blocking feature worked. When a user clicked on a site in the search results and immediately returned back to the search results without exploring the site further (indicating a low dwell time), a "block" link appeared near that site listing in the SERP (check the image below). This allowed the users to block that site out from the SERPs in future searches. If Google had offered users the option to block a site from the SERPs, it clearly points to the fact that the search engine uses dwell time metric in its ranking algorithm.
Google also discontinued one more probable dwell time feature. That was the "More by" feature that appeared below an article title of an author in the SERPs (check the image below). If Google found that an article by a certain author was engaging and useful enough for the users, it rewarded that author with a "More by" link for that article listing in the search results. This feature allowed the users to explore more articles authored by that individual from the SERPs. This was again a compelling sign that Google indeed considers dwell time to rank web pages in the SERPs. But it's absolutely unfortunate that Google withdrew these useful features from the search results.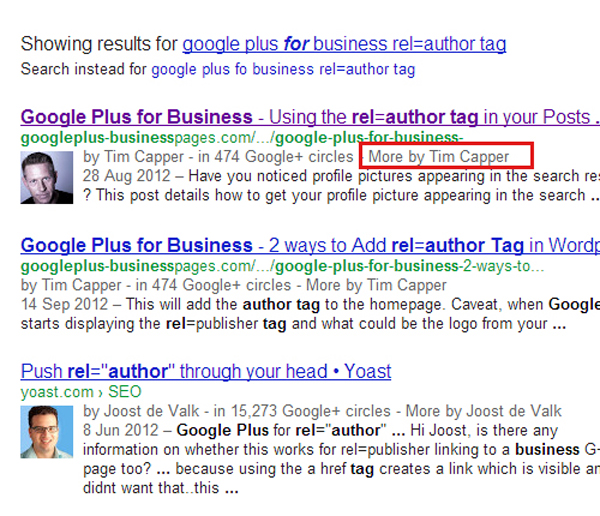 At the moment it may be doubtful whether dwell time is really factored in by Google to rank the sites, but it is sure that the search engine is monitoring the user engagement and time spent on the pages as ranking signals. But all of these ultimately point to one vital metric – the dwell time!
Actual and Standard Bounce Rates
As dwell time is the combination of bounce rate and time-on-site, it is worth knowing the basic difference between an actual bounce rate and standard bounce rate respectively. Actual bounce occurs when users land on a web page, spends just five or six seconds and immediately leaves the site when they didn't find what they were looking for. But when a user lands on a web page, finds the content useful and engaging, and spends more than twenty or thirty minutes on it and then exits from the same page, it is treated as a standard bounce.
If you observe a high bounce rate on a web page on your site that ranks high in the search results, it's probably the standard bounce that you are seeing and not the actual bounce. Due to this unreliability, bounce rate is not treated as a foolproof metric by many marketers to measure the quality and importance of web pages. Several website owners these days instead prefer dwell time more than the bounce rate to monitor the content quality and user engagement of their pages.
Please watch this video to learn more about different types of bounce rates, dwell time and click-through-rates
How to maximize the dwell time?
Now that we are almost certain that dwell time is a strong ranking signal, let's see how we can increase it.
Here are four sure-shot techniques that should increase the user engagement and dwell time of your web pages. It is highly recommended to put at least three of these techniques into practice to make your content stand out from the rest. But implementing all four is the best.
Generate Better Quality Content
The very first method to increase your dwell time is by creating better quality content. There's no shortcut to producing quality content if you want people to spend more time on your site. "Authoritative content not only helps to drive more organic search traffic but also facilitates in gaining trust", says Brett Relander, leading social media influencer and founder of X1 Fuel and 'Launch and Hustle'.
Whether you are creating a video, a blog post, infographics or a podcast, make it informational, authoritative, entertaining, easy to access, and conversational. Remember, increasing dwell time or time on site is all about generating quality content. So if are sure that your content generation strategy is not up to the mark, better optimize it now.
Create Coherent & Robust Interlinking
Dwell time is the duration between the users landing on your web page until they exit back to the search engine pages. This dwell time can be maximized by offering relevant links to other web pages on your site to the visitors. Those pages should essentially answer a probable query that may have cropped up in their mind after reading your web page. Anticipating visitor queries is the key to a powerful interlinking strategy. Interlinking offers rich user experience to the visitor, which gives them a strong reason to spend more time on your site. This strategy can also convert them into returning visitors or loyal customers for life if implemented effectively.
Interlinking also plays a crucial role in optimizing your site for better rankings in the search results. Put differently, interlinking is one of the vital SEO (Search Engine Optimization) strategies that you must undertake on your site. Poor interlinking can lead to a drop in your site's search engine rankings as the search engine bots may not be able to index your site completely.
Implement Effective User Engagement Tactics
Adopting efficient user engagement strategies will go a long way in increasing the dwell time on your site. One of the best tactics is by providing a short list of related content after each blog post or video or any other content. But while offering content recommendations, make sure they are closely linked to the content they are already viewing. This will increase the chances of your visitors staying more time on your site. Providing relevant content recommendations is the best incentive that you can offer your visitors to spend more time on your site without returning to the search results.
Make your content more interactive. For instance, instead of listing out all the content, make their searches more interactive by asking queries about their specific product choices or content preferences. This will persuade the users to spend more time (increases dwell time) as well as offers them more personalized search results. A win-win situation for both you and the visitors!
Including videos in your blog posts is another effective way to increase the dwell time. It provides all the information that a textual content can provide. And for being highly visual, videos will also offer a better user experience to the visitors. Unlike blog posts, videos are not that easy to scan through quickly, which eventually increases the time spent by the users on your site.
Provide the Best User Experience
Last but not the least is providing the best user experience to the visitors. If your site has a low-quality user experience even the best quality content cannot retain users for long on your site.
So provide easy and effective navigation on your site with menus, search bars etc.,
Implement a pleasing design if you don't already have one
Make your site mobile-friendly. Please note that mobile compatibility is a strong page ranking criteria for Google. A fast growing mobile solutions provider Moovweb claims that "81% of the time the top 3 [e-commerce] [search engine] results are mobile-friendly".
Wrapping up
That pretty much brings us to the end of this article. After you have implemented the steps to increase the dwell time, make sure you also have an efficient analytics system to effectively track this metric. Tracking the dwell time metric is just as vital as increasing it. Apart from the basic metric tracking chores, the tracking system should be insightful enough to suggest techniques for maximizing lead generation and bottom line.
FoxMetrics suite of analytics tools is one such system that's at the vanguard of 'intuitive' web metric analytics. With years of extensive experience in serving a wide range of customers from various industries, web analytics is our forte that only few can beat. Please click the following link to know more about FoxMetrics tools.
If you're thinking of personalizing the experience of your visitors, try FoxMetrics for free and Subscribe to our Newsletter get recent updates and news.