Do you know why tracking landing pages are crucial for your lead generation process? If not, then you must read on.
Landing pages are the lifeblood of your sales funnel. You must not only know how to set them up but also track it efficiently.
Here I've tried to explain the importance of tracking the various metrics associated with landing pages and how it can affect your conversion rate.
So let's get started.
Why tracking landing pages is crucial?
It's vital for you to keep a close track of those popular pages on your website that draws in the maximum number of visitors. Such pages are commonly known as "landing pages" in web metrics jargon. Tracking your landing pages will enable you to design a sales funnel that can easily convert your prospects into loyal customers.
Analyzing your website landing pages can reveal oodles of critical information about how you are generating leads; its strengths and shortfalls. It will also tell you which landing pages are pulling in the maximum number of prospects, and what elements on those pages are making that happen. So essentially, without tracking your landing pages, it is nearly impossible for you to test different versions of your web pages (known as A/B testing), improve and optimize them.
You must keep in mind that landing pages are the entry points to your website that are mighty enough to nudge the prospects to stay more on the site and explore it further. So it becomes highly crucial for you as a business owner to keep the landing pages attractive with stunning design, fresh and helpful content with strong images, and easy to find calls-to-action. Remember, the more engaging and informative the landing pages, the better are your chances to convert your visitors into leads!
But before we dive into the nitty-gritty of tracking landing pages, let's see why you need landing pages in the first place?
The importance of having landing pages
HubSpot points out that "Landing pages are the heart and soul of an inbound marketer's lead generation efforts.."
But many businesses aren't still utilizing the landing pages to their fullest potential. It may be either due to the lack the technical expertise to set them up or their marketing department simply doesn't have enough time to do that.
Landing pages can draw in highly targeted visitors to your site. You can then retain them as leads by nudging them to complete an action. Like, fill up a form, offer them an eBook or whitepaper for signing up to your newsletter, signing them up for a webinar, and so on. But make sure that your landing pages have something highly valuable for your prospects. While you are offering goodies, don't forget to extract important details about them and what they have bought earlier from a similar site.
Remember, your prospects can reach your landing page not just through search engines but through a whole range of channels. They can land through emails, PPC ads, social media, direct traffic, and referral sites, and through a variety of other marketing channels. So ensure that you utilize as many avenues as possible to attract targeted traffic to your landing pages. Most importantly, your marketing campaigns must determine that the landing pages are easy to find for your prospects.
Now let's find out how you can track the effectiveness of your landing pages.
Minimum Metrics for Tracking Landing Pages
Pamela Vaughn, Principal Marketing Manager at HubSpot writes that the only way to convert your visitors into leads is through landing pages. She says "By tracking and analyzing the metrics associated with your landing pages , you can collect a lot of insight into your marketing performance, such as how your various marketing offers compare, how visitors and leads are converting on your landing pages over time, and more."
To measure the success of your landing pages you must make use of the data generated by other metrics. Although there is a wide range of metrics associated with landing pages, these are the most crucial ones that you must track.
The number of views on your landing pages – This metric will show you the total number of views or visitors that any of your landing pages received.
Conversion of page views into actions (filling up a form, clicking a button, downloading a file, etc.) – The number of prospects or visitors that visited a landing page and took a particular action.
Total number of visitors that filled the forms
New leads generated by filling up those forms – The total number of visitors that were converted into leads by completing a form on a landing page.
New customers generated by your landing pages – The number of prospects that landed on your pages and bought a product or signed up for a service from your site.
The bounce rate of your landing pages – Bounce rate tells you the percentage of visitors that left your site from the same web page that they landed without exploring further.
Pay per sale – What was the cost of advertising to generate a sale or customer?
Here are some effective tips to optimize your landing pages
Waste no opportunity to promote your landing pages! Embed it as a hyperlink in your marketing emails, or email signature of all your emails, place it as an ad on your blog and harness the potential of social media to publicize your landing pages.
And when you promote, make your calls-to-action (CTA) as persuasive as possible. Make sure that you use highly captivating words in your CTAs. This will maximize the click-through-rates (CTR) and the number of prospects visiting your landing pages.
Keep the number of fields on the forms to the minimum that your visitors must complete on the landing pages. Most visitors won't have the time to sit down and spend a lot of time filling up long and boring forms. Lengthy forms can bring down your conversion rate. So keep the form length to the minimum to maximize your conversions.
The sales copy on your landing page must be highly engaging with compelling content on it. This will help retain your prospects for a longer time on the landing pages. The sales copy must also effectively exhibit the worth of your offers. Include every essential point that you can think of in the sales copy to make it as enticing and engaging as possible.
If you don't know how to set up a high converting landing page for your site, probably this short video by Jeff Usner will get you started.
Why is it required to track the finest details of your landing pages?
Wondering why your conversion numbers are low despite your best efforts to optimize your landing pages? That's because your basic tracking tool may not always uncover the tiniest (yet vital) defects of your landing pages. You need a much superior tracking tool like our FoxMetrics suite of tracking tools to reveal those subtle problems.
You must dig deeper and find out whether your landing pages are converting well at certain times of the day. Maybe your landing pages are exhibiting better performance during evenings than in the mornings. Or perhaps it is converting well during weekends than in the beginning or middle of the week. Your basic metrics tracker may not be able to track all such finer details.
Run different versions of the same landing pages at different times of the day. Alter the title wordings, CTAs, images, and if possible, the content and find out which version performs the best. This will allow you to optimize the landing pages for the best performance. This testing is technically known as A/B testing.
The next metric that will help you optimize your landing pages is the visual focus of your visitors or where they are mostly focusing on your landing pages. This is also known as eye-tracking or heat mapping. Once this metric is set up, you can arrange the key elements on the landing pages in a way that will lead to increased conversions.
Testing different design and color schemes on your landing pages is also vital. This will help you reveal what color and contrast schemes work best on your landing pages.
Ensure that the offers on your landing pages are valid. For instance, if you are tracking a page with a webinar offer that's outdated, then obviously that page won't convert. Update it with the transcript or recording of the webinar and track it again. Always keep the landing page content fresh and only include valid offers before you track any metric.
Track and see if the offers on all the best converting landing pages on your site share some common characteristics for their higher performance. Analyze whether they share any similarities in their sales copy, content, or design. At the same time, don't forget to track the offers on the low converting pages as well. Tracking all these features will let you create more useful and targeted content for your prospects.
The conversion rate on your landing pages can also depend greatly on which stage of sales funnel your prospects are when they were visiting your landing pages. For example, a first time visitor who landed up on your sales page may not instantly sign up for a trial version of your product/service. Hence, the stages of the prospects must be factored in while analyzing the success of your landing pages.
The Vital Elements of a Landing Page
Before we wrap up this article, let's check out which elements are the most crucial ones that you must focus constantly and optimize to maximize conversions.
Title
Your prospects are greeted on a landing page by a title or headline. So make that compelling, and convey clearly what they can expect from the landing page. A good landing page will always have a short headline but at the same time, effectively conveys the offer to the visitors.
Sales Copy or Content
Your sales copy must be compelling, engaging, clear, and also efficiently conveys the actual value of your offers. Structure it in an easy-to-read manner. Break it down into shorter chunks, keep it concise and highlight the main points with bullet points.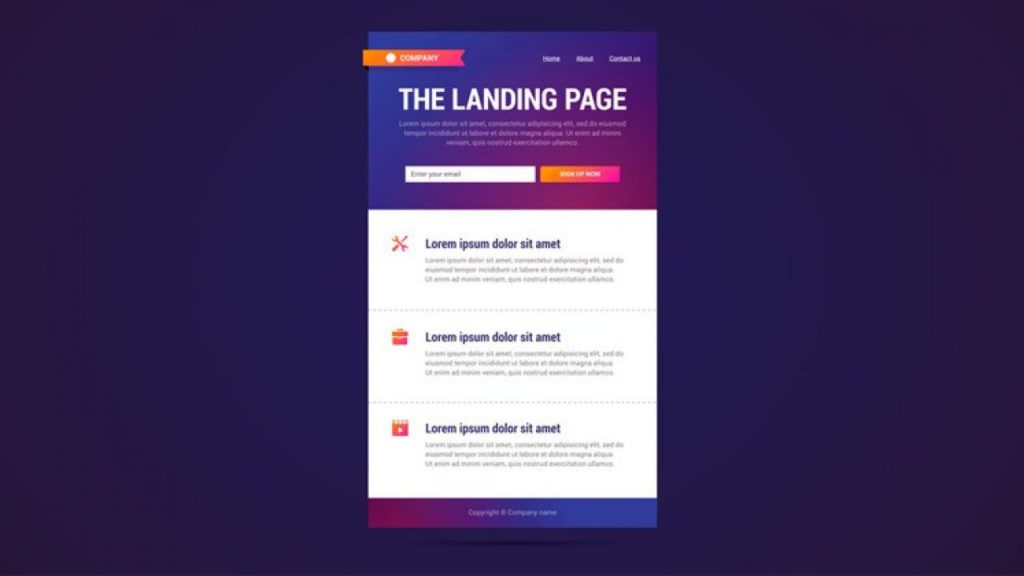 Keywords
Optimize the content of your landing pages with your target keywords. It must be included in the title and the main content. This will also make it easier for the search engines to find your landing pages and list them in their search results pages.
Social Sharing Buttons
Allow your visitors to share your landing pages with their fans and friends on various social media platforms by incorporating social sharing buttons on them. This is one of the best ways to maximize the reach of your landing pages beyond your loyal visitors and drive more traffic to them.
Forms
Forms are the most critical components of your landing pages. If your visitors find it appealing, they will fill it up and voila! You have more leads! So make it easy-to-find, shorter, and clutter-free.
Hide your Navigation
Hiding your side and top navigation elements will decrease distractions, bring down friction, and help in retaining the visitors for a longer time on your landing pages (or decrease bounce rate). This can surely increase the odds of converting your visitors into leads.
Add Images
Images make your landing pages more attractive for your visitors. Using an appropriate image can easily and effectively convey the offer to your prospects.
Wrapping it up!
Hopefully, this information has supplemented your knowledge of tracking the metrics of your landing pages. Incorporate these tips to see if you can create better performing landing pages for your site. Talking about metrics, FoxMetrics has always been at the forefront of web metrics analytics. Over the years, we have been helping out businesses from across the board to take their conversion rates to the next level. We have been implementing, improving, and overhauling various aspects of their metrics analytics to improve their bottom line. And I'm sure we can replicate the same with your organization too.
Click the following hyperlink to know more about FoxMetrics suite of analytics tools.
If you're thinking of personalizing the experience of your visitors, try FoxMetrics for free and Subscribe to our Newsletter get recent updates and news.