A high bounce rate is a dreaded enemy of marketers, bloggers, and website owners. On average, maintaining a low bounce rate is essential for SEO, conversion, and revenue.
Typically, if more people are abandoning your site, then you'll have less success in converting them.
In this article, I'll share nine tips to reduce your bounce rate. But first, let's look at what bounce rate means and what is considered a good bounce rate.
What is Bounce Rate?
As a refresher, a bounce rate is the percentage of people who visit your website and leaves without taking any action or clicking to other pages. For instance, if a user clicks on your link, spends a few seconds or minutes on the page, and exits your site, it's considered a bounce.
Typically, a high bounce rate means your page isn't engaging enough or doesn't just have what the visitor needs. It may also indicate that you have a wrong strategy or your site doesn't offer a good experience to visitors.
Visitors can bounce from a site by clicking to the previous site, closing the tab, or clicking on the link of another website.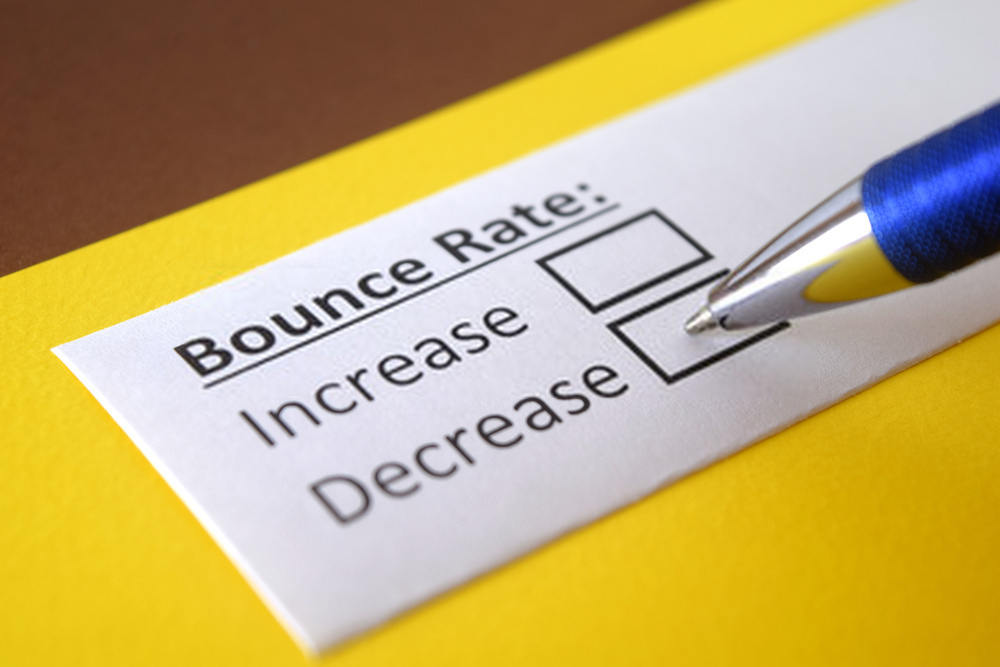 What Is a Good Bounce Rate?
The term "good bounce rate" is relative. For some sites, a bounce rate of around 80% is impressive –and for others, it can be catastrophic. It all depends on the purpose of your website and your business goals. Below is a general rule of thumb for bounce rates.
80% and above – very bad
70 – 80% – poor
50 – 70% – average
30 – 50% – excellent
25% or below – it's rare to find a site with a bounce rate below 20%. Getting this result is most times due to tracking errors or incorrect implementation. This is why it's necessary to adopt a top analytic tool like FoxMetrics in tracking your bounce rate and other web and digital marketing metrics. The image below shows bounce rates by industries.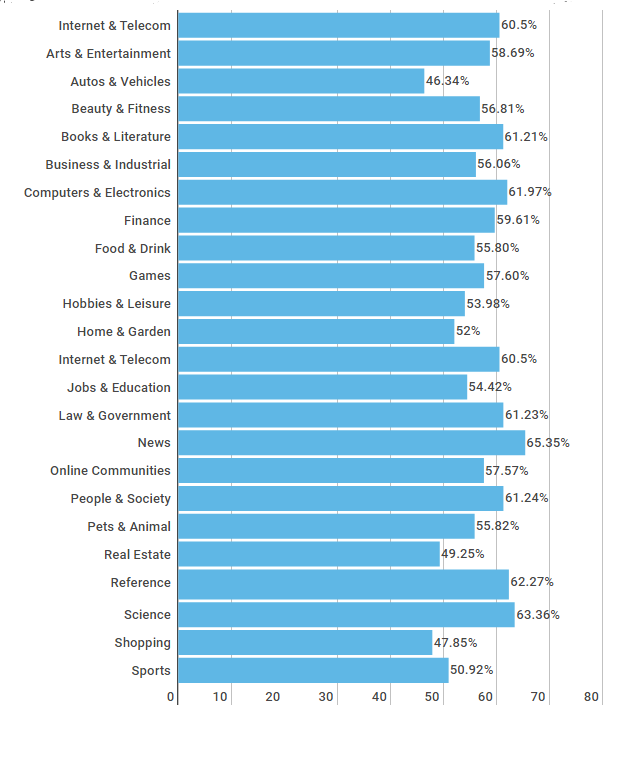 Steps To Reducing Your Bounce Rate
Now let's talk about how you can reduce your bounce rate. Below are nine critical steps you should take in strategizing a plan to lower your bounce rates.
1. Rank Pages By Bounce Rate
The first step in strategizing your plan of attack to improve your site's bounce rates is to understand where high bounce rates are occurring on your site. To build your understanding, rank all of your pages by bounce rate. Doing so will allow you to see what pages need work and what don't, and this will narrow down your focus to the most important pages. You can do this by analyzing your website's performance using a web analytic tool. Then sort the report to rank from the highest to lowest bounce rate.
2. Consider Traffic Volume
After you've ranked your pages by bounce rate, you must consider the traffic each page attracts. Inevitably, certain pages of your site will attract more or fewer visitors than others will. Once you know how much traffic each page generates, you can then assign pages a value based on their traffic. This will allow you to identify which pages need more work than others. You will most likely avoid making the mistake of simply trying to fix the pages that have the highest bounce rates because you are considering traffic volume as well. We do this all the time with FoxMetrics.
3. Compare Both To Your Site Totals For Each
Once you have ranked your pages and have considered each page's traffic volume, you should then compare the two statistics and, from there, make the best decision. Consider this scenario:
Page 1 has a bounce rate of 59% and attracts 1000 visitors/week
Page 2 has a bounce rate of 72% and attracts 500 visitors/week
If you could reduce the bounce rate of only one page, which would you choose? Many people make the mistake of selecting page 2 to work on, simply because it has a higher bounce rate and therefore needs more attention. But this is flawed reasoning because page 1 attracts twice as many visitors as does page 2.
While it certainly has a lower bounce rate, page 1's bounce rate of 59% isn't that much lower than that of page 2 (72%). Keeping things simple, reducing the bounce rate of page 1 is most likely a better idea, not page 2. The bounce rate discrepancy between the two pages isn't that significant, but the traffic generated is. The image below shows bounce rate differences by traffic sources.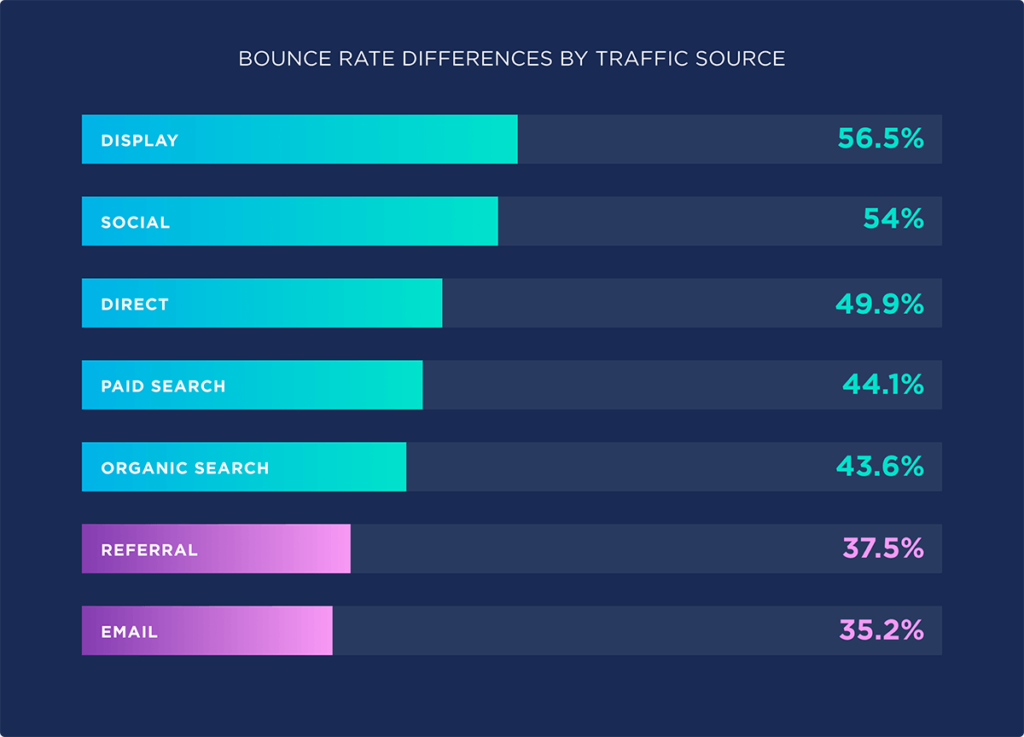 4. Reference The Bounce Rate with Time on Site
A visitor may have an excellent experience on your page, and still not click to go to another page. In essence, that would be counted as a bounce. But it isn't. Taking the bounce rate data out of context and relying on it exclusively won't provide a true reflection of things.
To accurately ascertain whether the problem is with a specific page or your site as a whole, you should look at how much time visitors spend on each page against the bounce page.
If the time on site is low, and the bounce rate is high, then the problem is with your website. Then you may not be providing exactly what your visitors want. However, if the time on site metric is decent and the bounce rate is high, then it may be with your content.
5. Optimize Page Load Time
High bounce rates aren't always a result of bad content or an issue with your page. Most times, the visitors don't even get to see what's on your page because your site takes long to load.
Online users and shoppers today expect a site to load up in seconds. According to data from Strangeloop, a one-second delay can make a site lose 7% of its sales, get 11% fewer page views, and result in a 16% decrease in customer satisfaction. Tools like Google Page Speed and Pingdom will allow you to optimize the speed of each page on your site.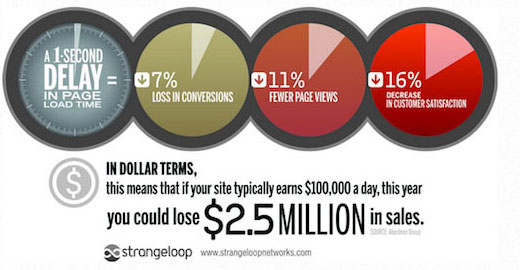 6. Optimize for Relevance
One major cause of high bounce is content relevance or irrelevance. Imagine searching on Google, and upon clicking on the link, you realize the content or product isn't related to what you are looking for.
What would be your next action? Exiting the site.
This is why it's vital to consider relevance above every other factor when creating your content. If you decide to go after any keyword, ensure it's relevant to what you are offering.
Consider the problem people searching that keyword are trying to solve.
Does the keyword offer the prospect to learn something, or buy something?
Answering these questions will ensure you create relevant content and attract visitors that will stick around.
7. Create a Compelling Call-to-Action
As I mentioned earlier, visitors can have a good time on your site and still exit without taking any action. Why? Because most may not know what next to do because of a non-existent call-to-action. Imagine reading a great sales page, and after getting to the end of it, you don't find any instructions on how to get the product.
Part of your content strategy should include a compelling and prominently visible call to action. It should tell your readers what you are selling and how they can get it.
You can use a web analytic tool to identify strategic areas within your webpage where your customers spend more time to place your CTAs.

8. Make Your Site's Navigation Effortless
Making it easier for visitors on your site to find what they seek is one effective way to improve your bounce rate. Online visitors are often expecting to find what they seek with minimal effort. This makes it crucial to make your site's navigation clean and flawless. This way, if a visitor appears on your site, and wants to locate another page, they can access it easily.
Another way to make your website more accessible is to have a functional onsite search. With an internal search, visitors who arrive on your website can easily search for content and products without going through the navigation. Onsite searches also help with SEO. Read this article to learn how to Instantly Improve Your SEO With Site-Search Data.
9. Use High-Quality Videos and Images to Engage Your audience
Videos and images are powerful tools in content marketing and should be a part of your marketing strategy. Videos have proven very effective in getting marketing messages across to viewers. You can create a full-screen video and add your call-to-action under it.
Images are also instrumental and can capture your audience's attention and get them to act. You can use stock images as the background of your page, or add an in-line image next to your CTA.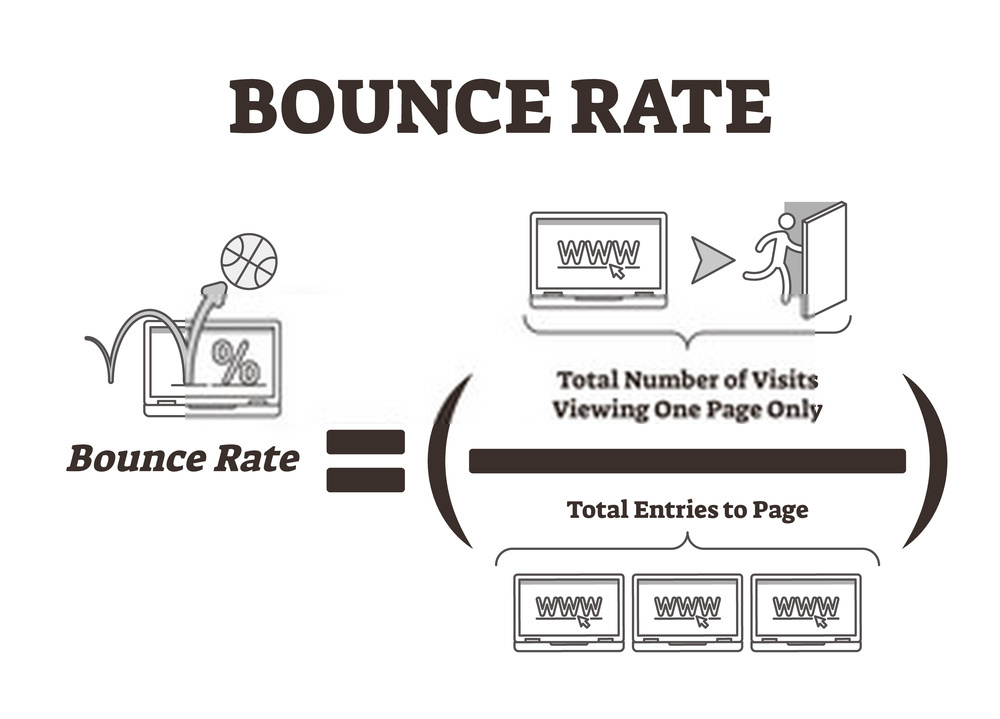 Conclusion
Lower bounce rates mean more engagement, more page views, and, ultimately, more revenue. To implement the steps listed above, you need an analytic tool to analyze your site and know your current standing and the various metrics affecting your bounce rate.
For this purpose, and other web and digital marketing analysis tasks, I recommend FoxMetrics. Not only does it allow you to track multiple metrics in real-time, but it also offers a complete picture of your site performance compared to analytic tools.
You can try FoxMetrics for free.