As they say, you can't manage what you don't measure. Every visitor to your website brings a unique set of data that can be collected, stored, and analyzed. This is why every company, regardless of its size, needs web analytics tools to unlock these insights to improve marketing and user experience.
While there are several tools for web analytics, few stand out and provides you with an exceptional understanding of your web performance. In this article, I will share the top 10 web analytics tools you can use to gain insight into your web traffic and increase conversion.
But first, let's look at what web analytics means and how it can help a business.
What is Web Analytics?
Web analytics tools allow you to track users' web activities to optimize your content and products. Web analytics tools allow you to track users' web activities to optimize your content and products.
It seeks to answer critical questions about your audience including;
The number of people visiting your site
The source of your site's traffic (search engines, paid searches, and backlinks).
The type of devices your visitors use (mobile, desktop, and tablets).
The data from web analytics will help you improve your online presence in the following ways;
Attracting newer customers
Improving engagement
Increasing lead generation
Increasing conversion
Improving customer retention
The ultimate goal of web analytics is to build and tweak your web strategy to reach your target audience better.
What Does Web Analytics Tools Do?
Web analytics tools generally perform the following functions to help you understand your site's performance and gain insight into your visitors and competition:
Data collection: Web analytics tools gather data about your site's performance and visitors' activities.
Management: Analytic tools don't just collect the data; they also organize and house it so it can be accessed anytime.
Analysis: This is the last bit and the essential function of web analytic software. It gives you the ability to extract valuable information from the data that has been collected.
Google Analytics is a completely free web analytics tool that provides detailed insight into visitors to a website. With this tool, you can know how they got to your website, each action they took while on your site, how often visitors to your site come back, and much more.
Google analytics has several features that are useful for tracking leads and purchases. The information it provides will enable you to refine your website to improve customer experience.
This tool is undoubtedly a favorite for most site owners. It allows you to measure various metrics like your click rate, how long visitors stay on each stage of your site, and their actions. You can also track campaigns that drive traffic to your site, and set up custom alerts to have specific insight delivered to you.
Cost: Google analytics is completely free.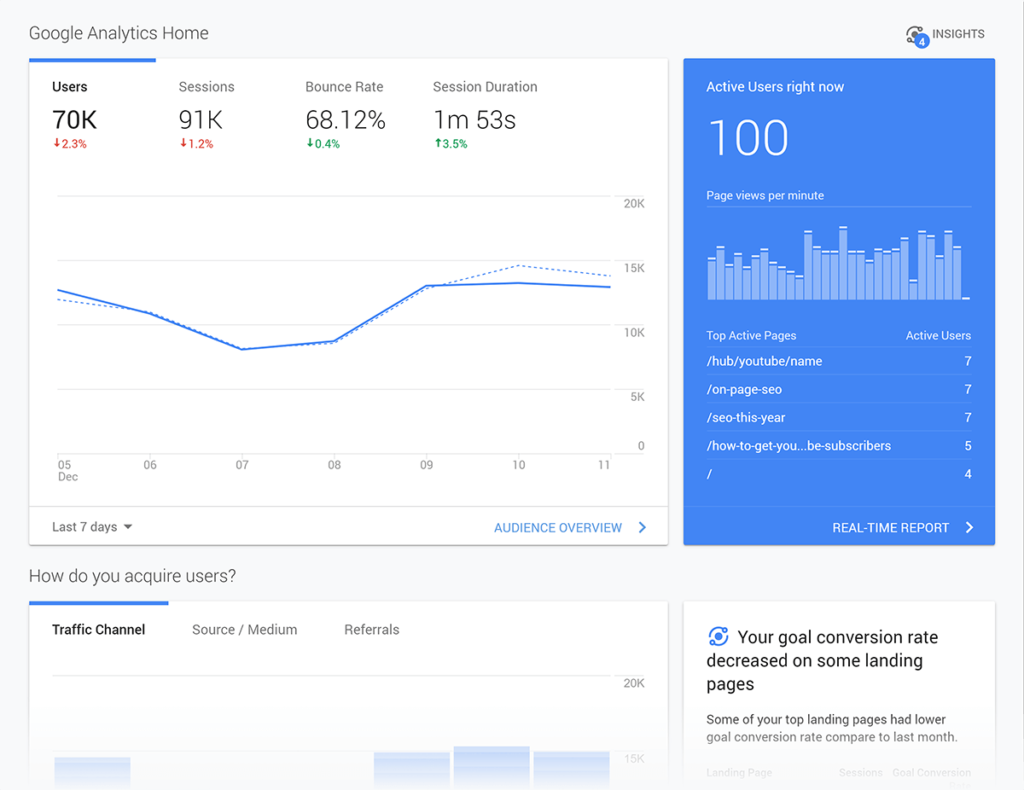 Crazy Egg
Crazy egg employs heatmap technology to provide a visual picture of what your visitors are doing on your site. You will be able to see where people are moving their mouse and where they click. The tool focuses on optimization, conversion, and A/B testing. It allows you to identify the areas on your website that are getting all the attention, so you can use them to improve other areas.
It also uses a scroll map that allows you to see how far down your webpage people scroll to. With this, you'll know where visitors leave your webpage.
Cost: Crazy egg provides a free one-month trial, after which you'll pay for the services –starting from $9 monthly for ten heatmaps.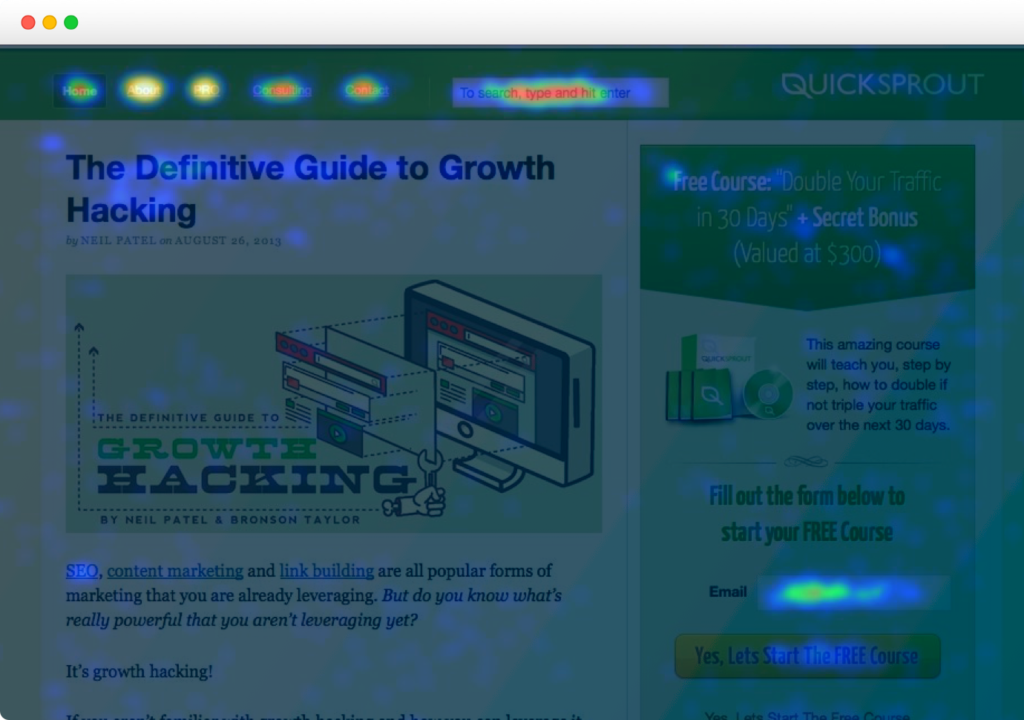 FoxMetrics is my favorite tool for web analytics. It has been making waves in the industry since its release, and for most, is the best tool to get the best out of your digital marketing.
This tool allows users to track essential metrics and get insight to drive marketing decisions. Whether you attract just a few visitors or millions, FoxMetrics can help you garner and analyze vital information about your visitors in real-time. Something you can't get with Google analytics and most web analytics tools.
This tool has several features that set it apart from its competition. The funnels allow you to identify where your visitors are taking action; the profiles which would enable you to track individual customers' life cycles; the segments that enable you to divide your website traffic into relevant categories; and the triggers that you can use to set up reactions.
Its dashboard has an excellent interface that presents all the information you need to get a full picture of your site's performance and make data-driven decisions.
Cost: FoxMetrics offers three unique plans starting at $49.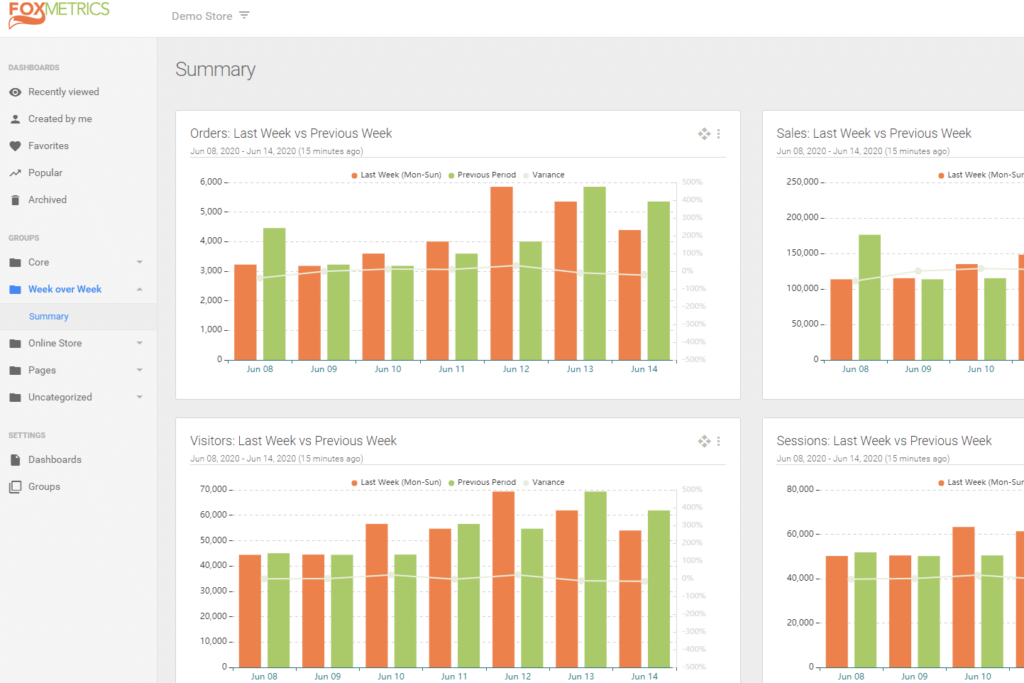 KISSmetrics
KISSmetrics offers a great system to track your visitors and the actions they take on your site. Though it's most suitable for digital marketing, it also has several features that give you the ability to track web activities.
With KISSmetrics, you'll get a Timeline View of all your visitors' activities in a format that's easy to understand. You can track your visitors' movement, identify patterns, and see how their behavior changes over time.
Cost: KISSmetrics offers a free 30 days trial period. After that, you can pay for a plan starting at $140 monthly, depending on the number of activities you wish to track.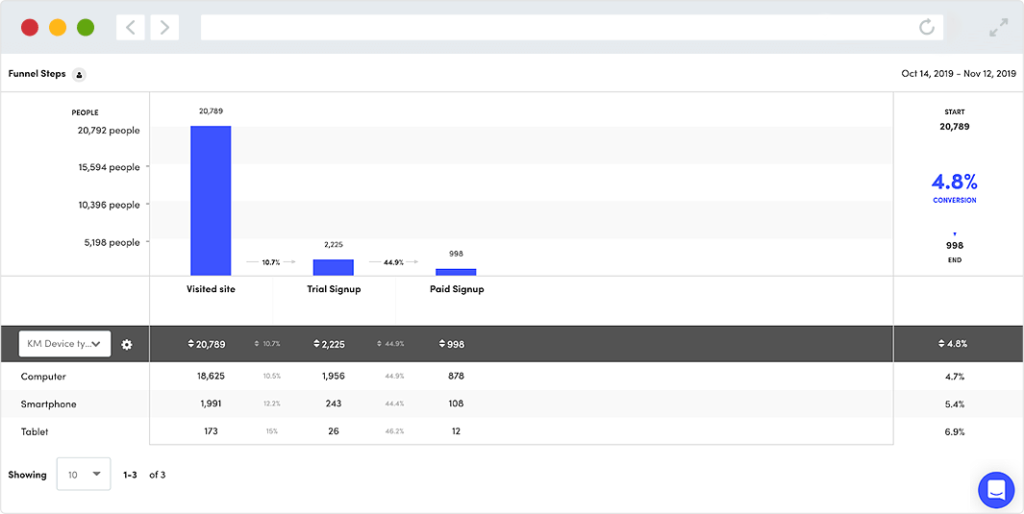 Clicky
Clicky is a web analytics tool created by Roxr software. It enables bloggers and website owners to understand their visitor's behavior when on their website. This tool offers several features that are particularly helpful in spying on your competition and identifying areas of improvement on your website.
It provides heatmaps for each session or segment on your website, to help you determine the areas that are getting all the actions.
Cost: Clicky service is free if you only own one website and up to 3,000 daily page views. Otherwise, you'll have to pay for a pro account starting at $9.99 monthly.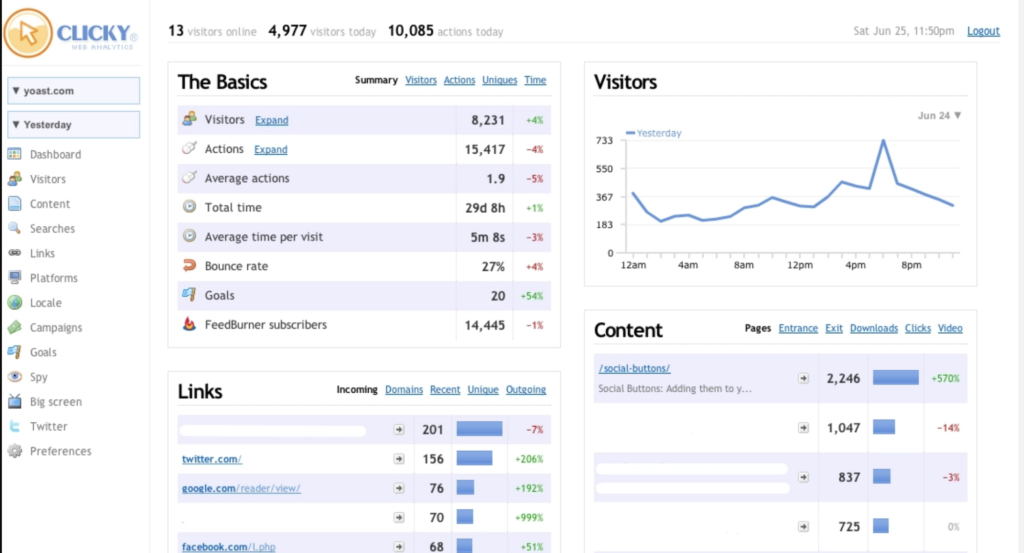 Mint Web Analytics
Mint is a self-hosted analytic tool that allows web owners to track various metrics like visits, page views, referrers, popular pages, and searches at a glance. With Mint, you'll understand what your visitors are searching for on your website. This tool gives you more control over your site. It allows for real-time conversion with customers and provides statistics to enable you to make the right decisions.
It also has a friendly and easy-to-use interface, which is a major plus.
Cost: Mint costs $30 per website, and there's no recurring cost after that.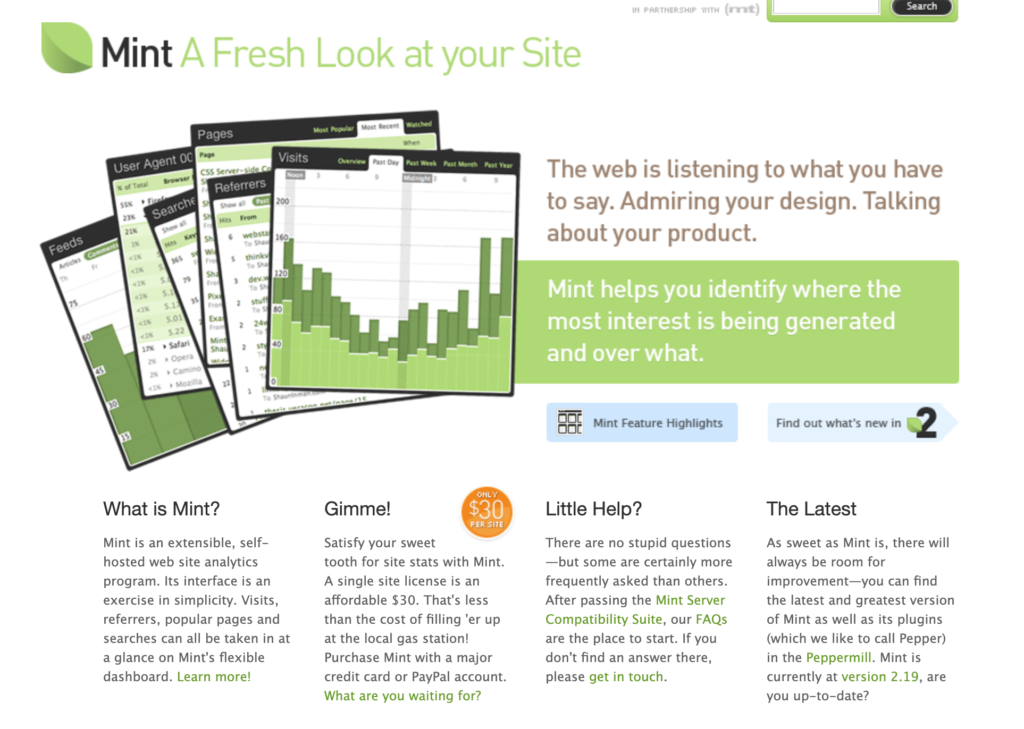 SimilarWeb
If you want to spy on what your competitors are doing, SimilarWeb is the tool to use. It lets you plug in any website and get detailed insight into their traffic and rankings. This is beneficial if you plan on comparing your site with that of your competitors. The tool provides a breakdown of both the desktop and mobile visits to a website over the last six months. The data contain details like time on site, bounce rate, and page per visit.
Cost: SimilarWeb allows you to compare two sites at a time for free. However, to compare more than two sites, users need to upgrade to a paid plan starting at $199 monthly.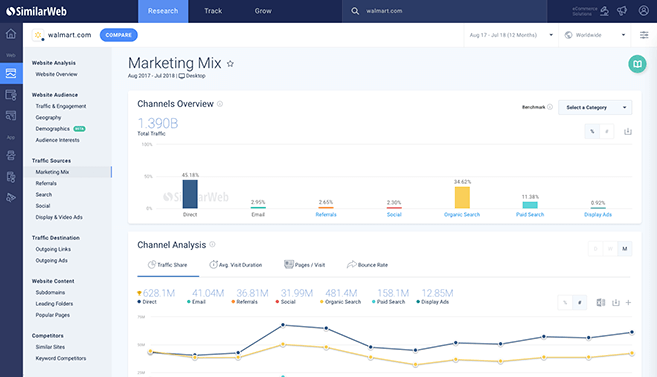 Matomo (Formerly Piwik)
Matomo is a free web analytics tool used by over 1.5 million websites. It allows you to track your visitors' actions on your website and learn from your site traffic. The tool offers several features, including heatmaps, A/B testing, search engine reporting, and more.
Matomo is a PHP software that you'll have to download and install on your website. It provides datasets that are similar to Google analytics. You can set up automatic email reports to keep you updated on your site traffic and content performance to optimize accordingly.
Cost: Matomo is an open-source program that is free to use.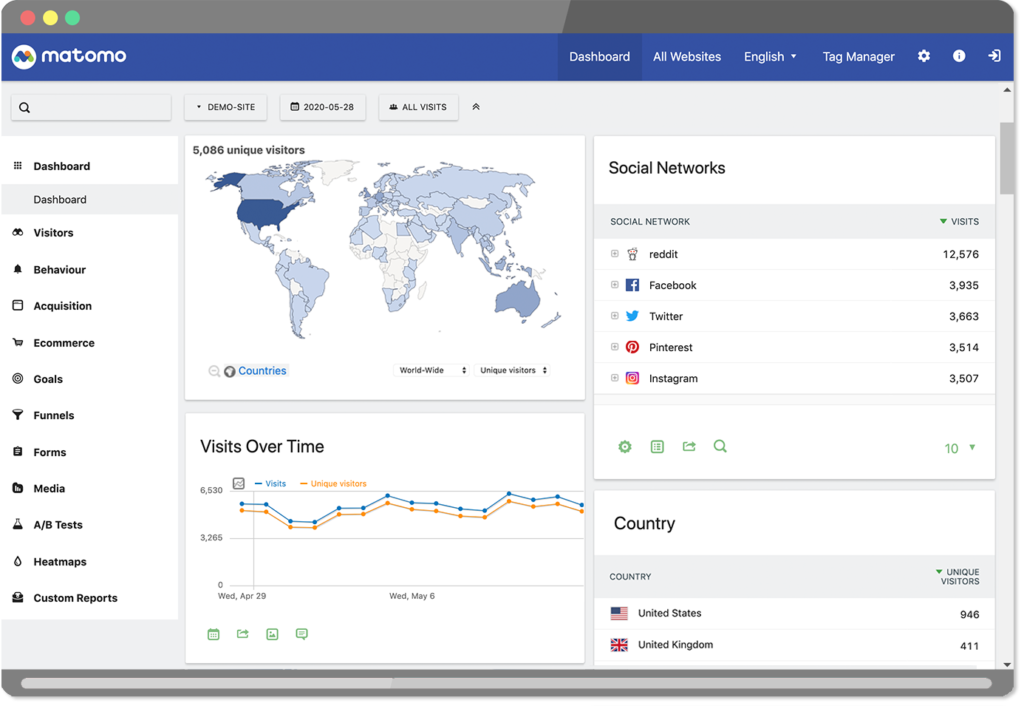 Clicktale
Clicktale tells the tale of how your customers are interacting with your website. It records the action they took, where they are putting their mouse, and how they scroll. The tool lists every visitor to a website with details such as when they visited, their location, where they were referred from, and how long they stayed on your site.
It offers traditional conversion analytics and creates a visual heatmap to report customers' behavior.
Cost: Clicktale has a free plan that allows users to evaluate the tool. However, the paid plan starts at $99 monthly for 20,000 page views and up to $990 monthly for 300,000 page views.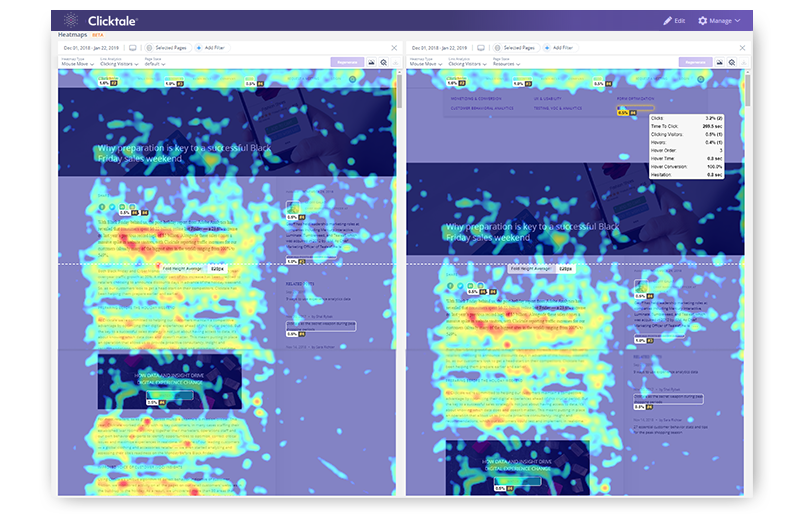 Open Web Analytics
Open Web Analytics Tool is renowned for its simplicity and ease of use. It allows you to track and analyze how people interact with your website and applications.
It's an open-source option to Google Analytics and provides a similar dataset. However, unlike Google analytics, open web analytics offers heatmaps, mouse movement recording, and document objects.
All you need to do is tag the website you want to track, and you will get reports in real-time. You can measure the click-stream of individual visitors to your site to know where exactly they click.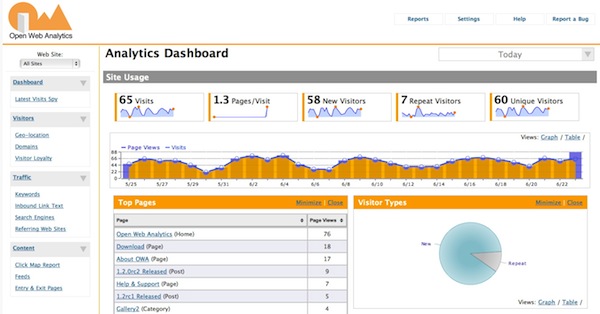 Cost: OWA is an open-source program that is free to use.
Final thoughts…
There are lots of web analytics tools out there. To decide what's best for you, think carefully about the metrics you want to measure. On a personal note, I use and recommend FoxMetrics. Not only does it have all the features needed to track website interaction successfully, but it also offers excellent insight into areas of growth, as well as your competition. The FoxMetrics dashboard is easy to use, even for a non-tech person, and you can add new metrics you want to track. You can check it out at FoxMetrics.com.