You are most probably aware of the Bounce rate metric, the ways to track it, and also how it can affect your bottom line. But what you must also know is a very closely related metric – the Exit rate. The exit rate metric shares a lot of similarities with the Bounce rate. But these metrics tell you two completely different attributes of your website.
In this post, I have explained the Exit rate metric in detail with respect to the Bounce rate. And I have offered some useful insights on why it is vital to track the Exit metric and tips to track it effectively. So let's get started.
What is an Exit Rate and how is it different from the Bounce Rate?
The exit rate is the percentage of visitors leaving a specific web page on a site after visiting more than one web page on the site. The Exit rate metric is calculated on the basis of the number of web pages visited before the exit. Now don't confuse this with the bounce rate. Here's how they differ. The bounce rate is also the percentage of visitors leaving a specific web page. But a bounced visitor doesn't visit more than a single page, whereas a departed visitor visits more than one web page before leaving the site.
To get more clarity, let's check this example.
A user finds your web page listing in the search results. Clicks through it and lands on a blog post on Web Metrics. He then clicks on another link (say "About Us" page link) on the page and lands on the About Us web page. After finding out more about your company, he decides to visit another page (say Services). He then spends some time on it and leaves your site from that page. Now the Services page becomes the Exit Page for that visitor. Whereas if the user had left the site from the Web Metrics post (the first page) itself without visiting any other page, it would have been a Bounce. I hope it's clear now!
I've already discussed the importance of the Bounce Rate metric in detail in one of my earlier posts. However, the crucial difference between the Bounce Rate and Exit Rate is that unlike a bounce, a user can exit your site anytime during their visit due to any bizarre reason. It is hard to uncover the exact cause for such a premature exit. This obscurity factor of the Exit Rate makes it even more important a metric analysis. You can reveal the actual reasons behind the premature exits of specific user groups from your site by monitoring the Exit Rate.
Before moving on to the Exit rate metric in detail, it may be useful for you to know how to decrease the Bounce rate. Watch the video for some valuable tips.
Why should you track Exit Rate?
The exit rate essentially reveals the bad performing web pages on your site. It will help you track those web pages that don't showcase an optimal performance in terms of conversion or leading the visitor to another important page (like the checkout page). For example, if you see an unusually high exit rate percentage on a page that's supposed to send visitors to another important page or a sales pitch, then that page needs urgent attention.
You must perform a close analysis of the various elements of the page. Check if it is the content that needs optimization or if the calls-to-action are unimpressive. Take a closer look at the design of the page. Maybe it's the color scheme that's a turn off to the visitors. The other features that need careful scrutiny are the technical snags. Does the page take a lot of time to load? Or are there any other technical problems that are driving users away from the page? You need to review all these aspects.
If you have to track explicit functions like the sales conversions then you must employ more advanced techniques like funnel analysis. Utilizing the Exit rate metric is more suitable for tracking less specific functions like targeted traffic or sending visitors to another page to complete a task (like filling up a form or subscribing to your email list). The lead generation process would be the right area to employ the Exit Rate metric.
Insights offered by tracking the Exit Rate metric
Exit Rate metric analysis can reveal a lot about the reasons for premature user exits. It can help you examine the reasons for the natural and unnatural exits from your site. If you see an unusually high rate of exits from your sales page or checkout funnel, then those exits can be termed unnatural exits. Checkout funnel is meant to convert the leads into customers, hence it is unnatural to see a high exit rate on that page. Whereas if you see a high exit rate on your order confirmation page or thank you page, those are natural exits. Because users generally exit out of the site from such pages after the purchase is completed.
Once you have gained valuable insights into the reasons for user exits, it becomes a lot easier for you to optimize your pages for increasing conversions and retaining visitors.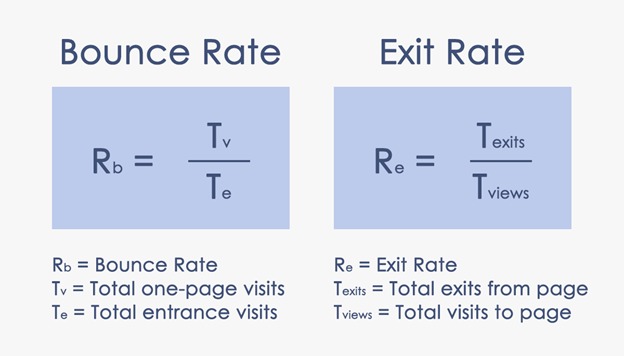 Analyzing the percentage of Exit Rate can offer answers to the following queries regarding your site.
How well is your website content affecting conversions?
Which page of the conversion funnel has the maximum exit rate?
Are visitors exiting out of vital product pages, if so what's causing those exits? You must note that not all exits are negative. Some percentage of the visitors may be in their initial research phase and may return to complete the purchase.
Are the visitors exiting early from a specific device or channel?
Do the users exiting from different pages share common characteristics?
Believe me, unless you have the right tool to keep track of the Exit rate or any other vital metrics of your website, accomplishing your desired conversion rates can be near impossible. FoxMetrics is one such tool that you can count on for all your metrics tracking activities.
What is the best way to approach the Exit Rate percentage?
In most of the cases, a high bounce rate always points to a poorly optimized site. But a high exit rate need not always be treated as a bad sign either. For instance, you will notice a high exit rate on a 'Thank You' page or 'Contact Us' page. This is quite natural, as users will exit immediately after completing a task.
In other cases, you will see a high exit rate in your web analytics tool when users are redirected to another web page via external links. If your product page is on one site and blog posts are on another, then you will find a high exit rate on your blog posts. That's because you are sending visitors from your blog to your product page on your other site via external links. Isn't it great if users are clicking on the links in your blog to visit the product pages on your e-commerce site?
If you see an extremely high exit rate on a specific page that's hard to explain, then you need to take a closer look at that page. Check what's causing visitors to exit prematurely without completing a task. Is it the content or any other technical error that's driving people away? Is it a dead-end, with no links to go further? You must scrutinize all of these elements. Analyzing the exit rate percentage is the best way to pinpoint the pages where users are exiting from your conversion or sales funnel.
It calls for great concern if you notice an unusually high exit rate from pages that are in the middle of the conversion funnel. The reasons for unreasonable departures from your page can be several, but some of the main ones are as follows.
Navigational issues: If users are unable to quickly figure out where to proceed further on a page, they may get fed up and just leave. For instance, if your call-to-action button is placed somewhere obscurely on the page, it can lead to early departures.
Lack of guidance: Users must be carefully walked through the entire process of the sales or conversion funnel. The users must be appropriately guided, right from the moment they enter your site, till they are converted into a lead or customer. If any of the pages lack appropriate guidance about what task the users must carry out next, they will exit in frustration. The action must be clearly mentioned or visible on every page. (For example, signing up for a newsletter or completing a form or clicking an external link).
Dead-end page: If you have a page that offers no links or navigation to go further or backward, then you have a dead-end page. Once users land on such a page, they have no option but to leave. This is a dangerous design flaw that you must avoid at any cost to bring down your exit rate percentage.
Non-compelling USP: If you fail to convey how your product is better than your competitors', you will see a high exit rate on that specific funnel page. It is natural for users to exit immediately if they find your claims less compelling than your rivals'. Make sure you have a solid unique selling proposition (USP) in place on every page of your conversion funnel to keep the exit rates down.
Many businesses spend a huge chunk of their marketing efforts into monitoring the bounce rate. Analyzing the bounce rate alone cannot help you maximize conversions! Tracking the Bounce rate metric is good for improving your landing pages. But if you have an e-commerce site, then you must pay more attention to the Exit rate than the Bounce rate.
You can make huge improvements in your conversion rates by tracking the exit rates on specific pages, different stages of your conversion funnel, and different categories of content. By decreasing the exit rates on specific pages, (for instance by providing efficient navigational help or enhancing the sales pitch) you will see a tangible increase in conversion rates.
Metrics to track along with the percentage of Exit rate
If you are tracking the bounce rate percentage, then you must track the number of entries to a specific page. Likewise, while monitoring the exit rate percentage, it is crucial to analyze the number of unique page views. Similarly, it is important to monitor the bounce rate while tracking the exit rate percentage. You must also do a comparative analysis of the number of entries and unique page views of those pages.
Wrapping up
Although exit rate and bounce rate metrics are quite similar in nature, they reveal two different aspects of your website traffic. Hence you must incorporate the analyses of both these metrics in your marketing campaign. Helping you in these metric tracking efforts should be a good metric tracking tool.
Unless you are armed with an intuitive and state-of-the-art metric tracking system it's immensely hard to achieve your conversion goals. FoxMetrics is one such tool that will revolutionize your metric analysis. This insightful system has easily and efficiently helped our clients accomplish their marketing objectives and increase their bottom line in the shortest possible time. So can you!
Please click on the following link to know more about the FoxMetrics suite of tools.
If you're thinking of personalizing the experience of your visitors, try FoxMetrics for free and Subscribe to our Newsletter get recent updates and news.