Data is a marketer's best friend. Running a marketing campaign without measuring your activities is like running a car without gas – You can put in so much effort, but would not go far. With marketing analytics tools, you can measure, track, analyze, and manage your marketing performance to maximize ROI. These tools provide comprehensive details about your performance to enable you to understand what's working and what isn't – so you can shape your strategies to achieve better results.
A Forrester Consulting study found that "marketers who deploy five or more marketing analytics tools are 39% more likely to have improvements in overall marketing performance."
To help you determine the tools that are right for your organization, we have rounded up the best 20 digital marketing analytics tools below.
Campaign Monitoring Tools
The insight offered by campaign monitoring tools allows product managers and marketing teams to track their performance across multiple channels. Below are the best campaigns monitoring tools.
If you want to track events on your website, mobile app, or integrations with products, Mixpanel is the ideal choice. Mixpanel is a powerful analytical tool that offers invaluable insight into audience behavior. It allows you to monitor individual performance, and trends right from your dashboard.
Cost: MixPanel offers several pricing levels based on the volume of data being analyzed. Analysis of up to 25,000 data points attracts zero charges. To analyze higher data volumes, you'll need to subscribe to a basic $99 monthly package.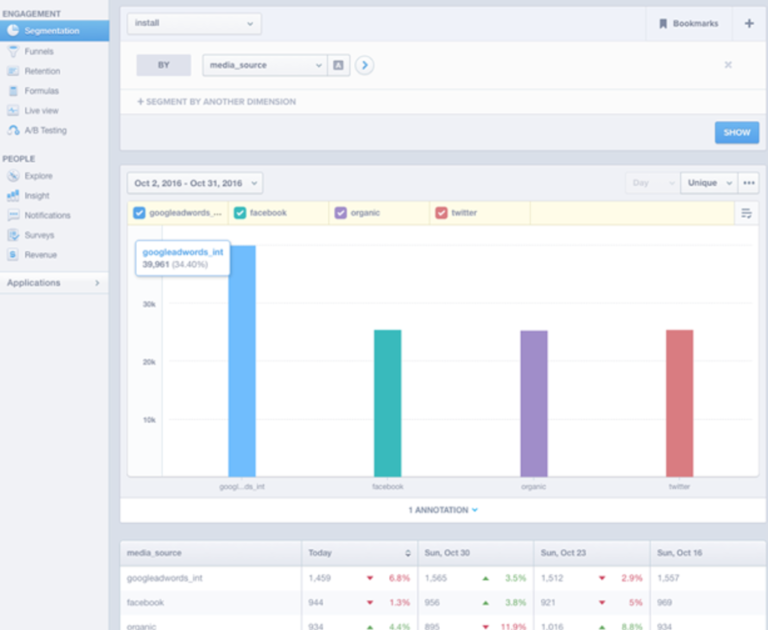 With Oribi, all interactions on your website are collected and presented in summary to enable you to track customer behavior across several domains. This incredible tool aids faster and more data-driven decisions. It automatically records events and conversions on your site and highlights any changes that occur. You'll be able to track every action a visitor took on your website and identify where they got lost – to optimize customers' journeys.
Cost: Oribi offers different pricing plans depending on whether you are a business, eCommerce, or agency. The costs are based on the number of visitors you have each month.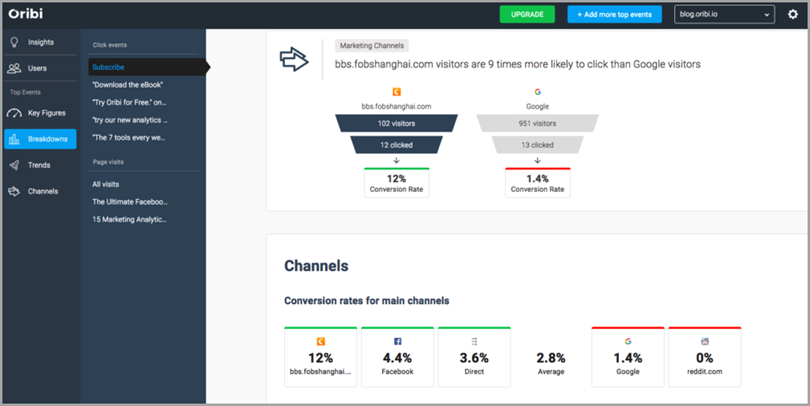 There are very few marketing analytics tools that offer as much valuable insight as FoxMetrics. FoxMetrics is a uniquely designed suite of products that offer real-time personalization and customer targeting. It provides marketers with remarkable insights into customer behavior and an accurate picture of marketing efforts.
This tool tracks and analyzes behavior on websites, mobile app, offline data and creates a beautiful visualization that reveals deep insight on performance. Another cool feature of FoxMetric is that it allows users to create and automatically share reports with team members and stakeholders.
If you are tired of working based on assumptions and want to see your performance in real-time, FoxMetrics is a perfect fit.
Cost: FoxMetrics offers both Starter and Business packs starting at $99 monthly. All plans come with unlimited apps, unlimited users, auto import, and support.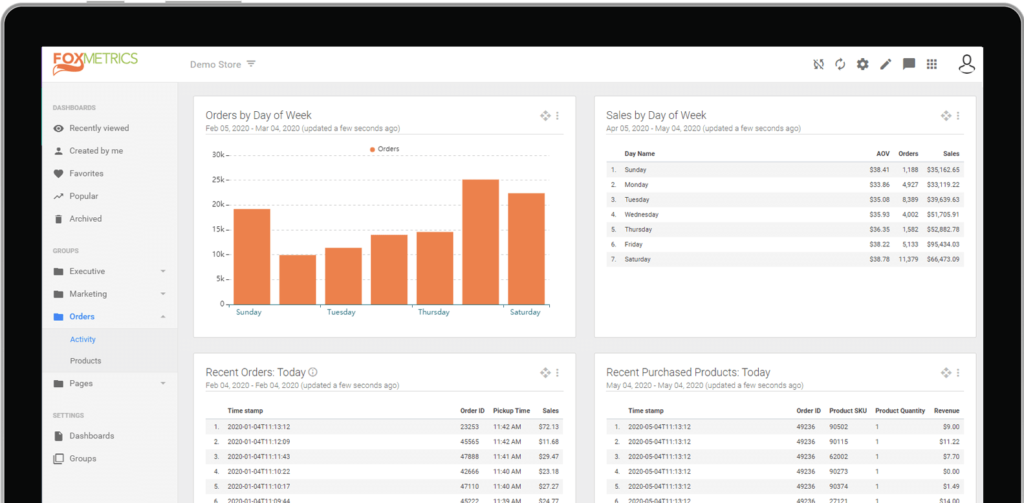 Move past unreliable session-based analytics and get great insights on your customers using KissMetrics. With this tool, you'll be able to identify and solve issues hampering conversion.
It's ideally suited for digital marketing teams and eCommerce products, seeking an effective way to track customers' conversions and identify areas where they are losing out. The insight from KissMetrics allows you to optimize the checkout funnel, convert more visitors into customers, increase customer engagement, and overall marketing.
Cost: KissMetric offers a pricing model based on the number of events you want to track, and features and support you need. It starts at $299 per month.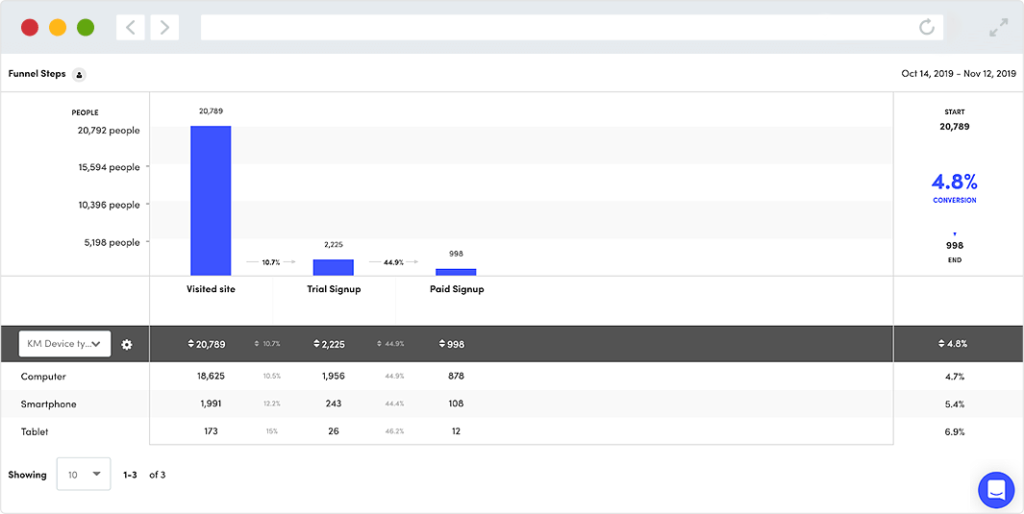 Google Analytics is a free market analytical tool from Google. It lets you track where the visitors to your website are coming from, the amount of time they spend on your site, and more. Google Analytics is ideal for marketers seeking to track conversions, sales, and growth.
Cost: Google Analytics provides a wide range of features for free. There's also a premium package for larger enterprises that costs $100,000 annually and comes with increased data capacity and full support from Google.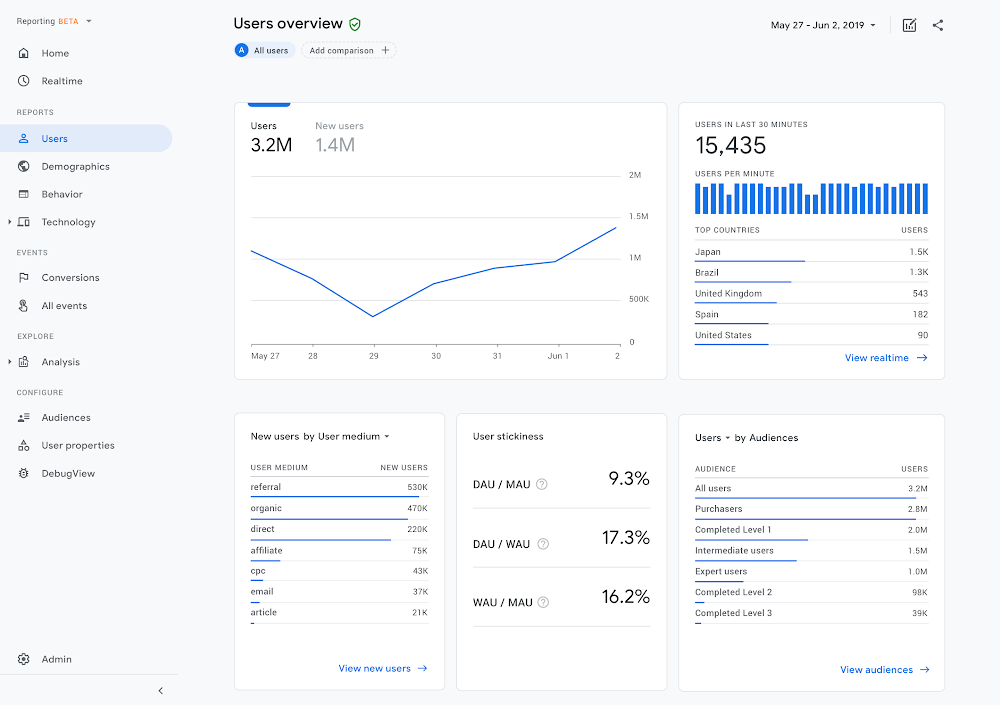 Dashboard Tools
These tools allow you to aggregate data from various sources and visualize them to create unique dashboards. Here are the best dashboard tools.
Cyfe is an all-in-one business dashboard that allows users to integrate data from various marketing tools and view it from a single platform. With Cyfe, you can track your performance on websites, mobile apps, social media, marketing campaigns, etc. This tool has several unique features and supports data exports, customizations, historical data, and more.
Cost: Cyfe is free to use. However, if you want unlimited dashboards and widgets, historical data, and sharing options, you can go for the premium version that costs $19 per month.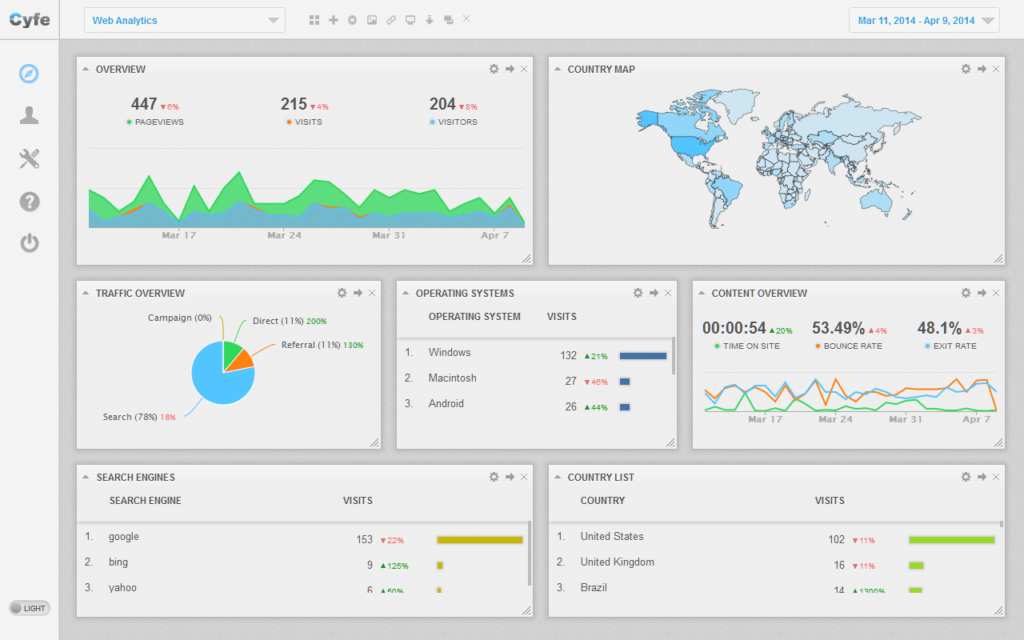 Klipfolio is another tool for building interactive and customized dashboards that covers your entire marketing channel. It provides access to several tools that allow you to integrate with Google Analytics and Facebook to monitor your performance. You can drag and drop visualizations like charts, bullets, and share reports with your teams and stakeholders.
Cost: Klipfolio offers different plans for various types of users. The Start Pack goes for $29 monthly and is suitable for small businesses and teams.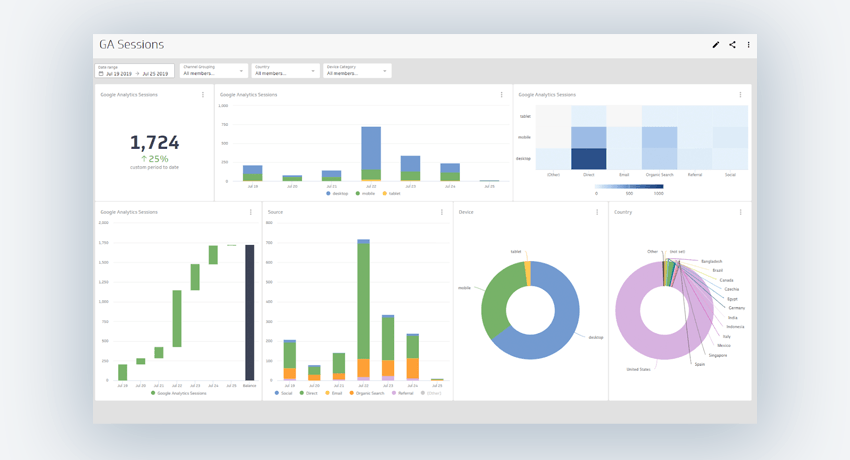 FoxMetrics Dashboards give you greater control over all your data and metrics in real-time, with tools that make it possible to create and share reports with clients, teams, and stakeholders. It also offers white-labeling options that allow you to brand the dashboards and reports with your colors and logo.
Cost: FoxMetrics offers both Starter and Business packs starting at $99 monthly. All plans come with unlimited apps, unlimited users, auto import, and support.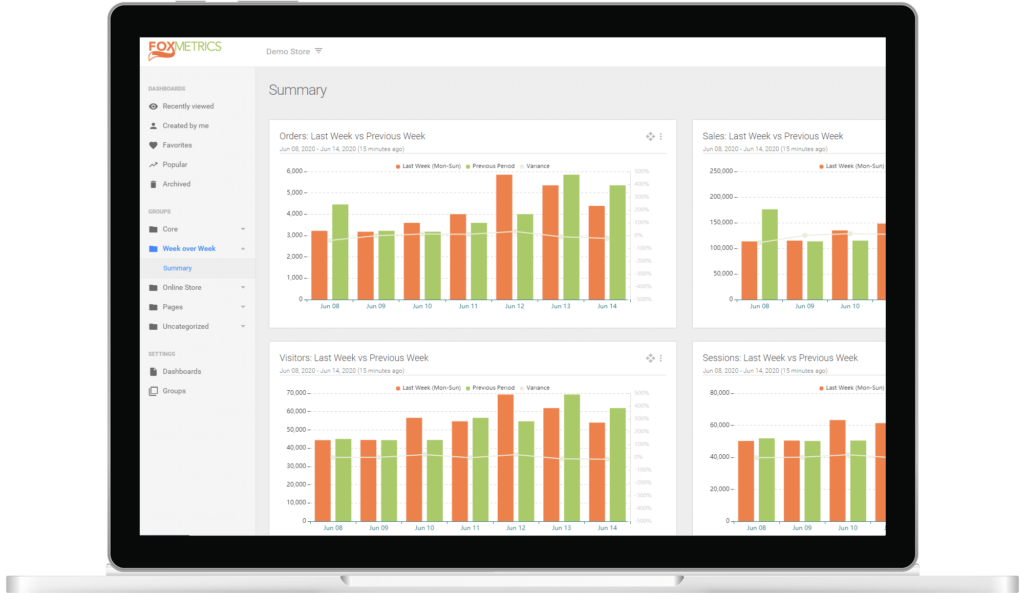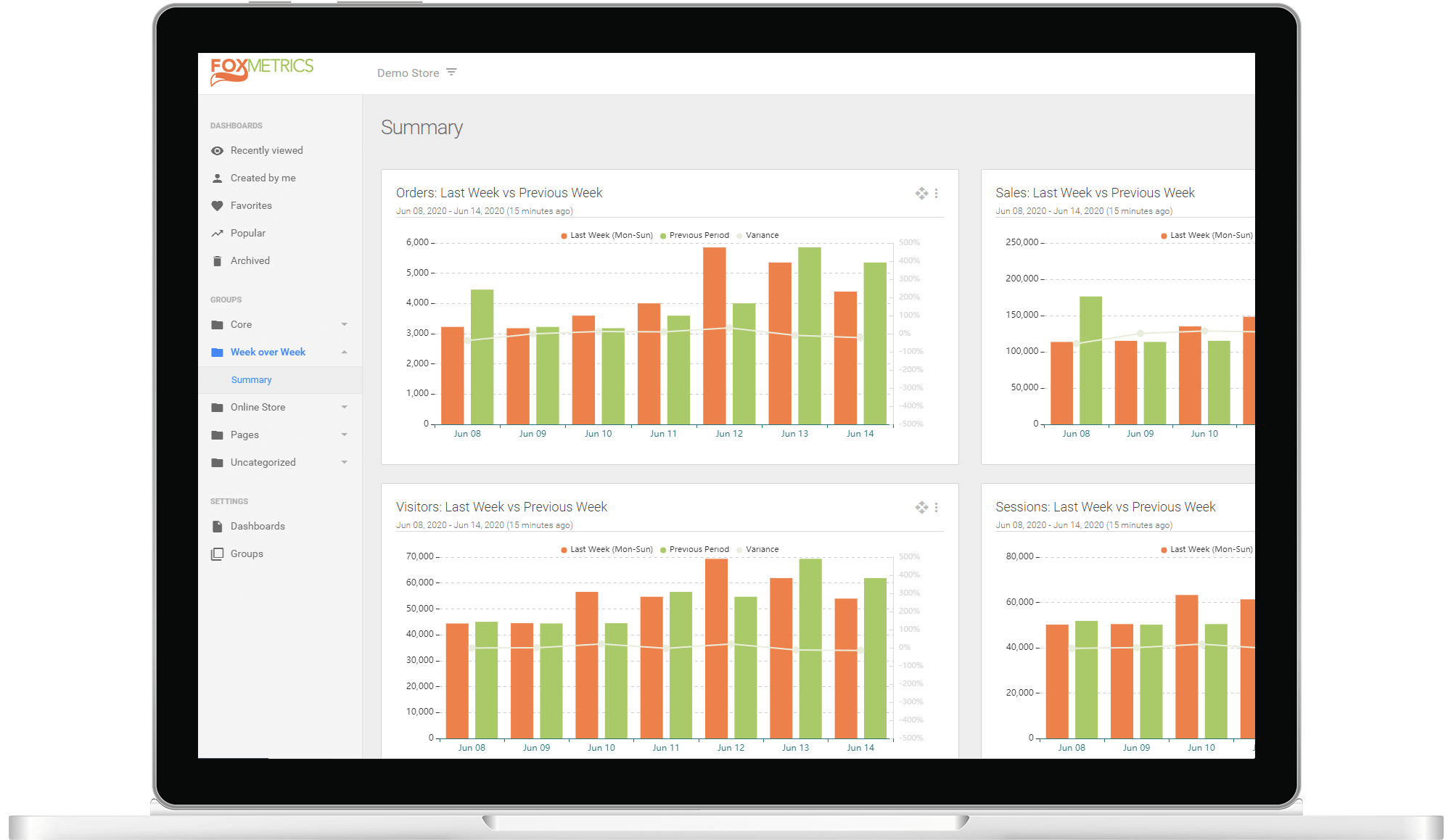 Raven Tools is a cloud-based SEO platform designed to help marketers, freelancers, and small businesses manage links, research competition, track keywords, and report their progress. It also offers white-label marketing reports and allows you to schedule posts to be sent daily, weekly, and monthly.
Cost: Raven Tools offers a risk-free 14-days trial, after which you can subscribe to a plan starting from $99 monthly.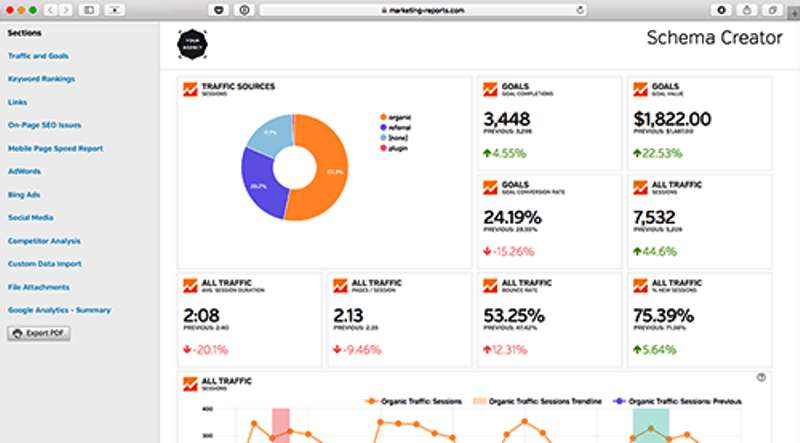 HubSpot is an all-in-one inbound marketing tool with a variety of solutions to attract and convert leads and close more deals. It offers everything you need to launch your campaign, get people interested, and make your customers happy. With HubSpot, you can measure your entire marketing performance from one place, get detailed reports for each channel, and make data-driven decisions from your dashboard.
Cost: HubSpot is free for beginner marketers and solopreneurs. To enjoy more features, you'll have to upgrade to the Starter or Basic pack at $50 or $200, respectively.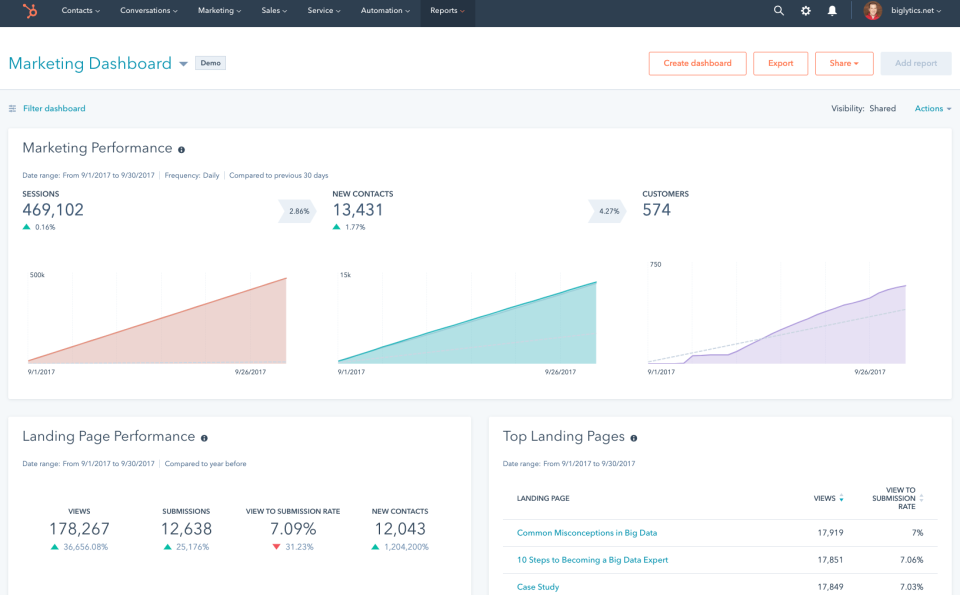 Milestone Analytics
Milestone Analytics is designed for marketing teams of all sizes. It allows you to measure your marketing across various social channels, sites, paid searches, and more. You'll be able to connect to third-party data and access critical KPIs quickly and easily. Milestone Analytics is ideal for marketing teams and agencies that handle multiple social accounts. It's specifically designed for hotels, retails, and banks.
Cost: The pricing for Milestone Analytics is based on your specific business needs. You'll need to contact their marketing team for a quote.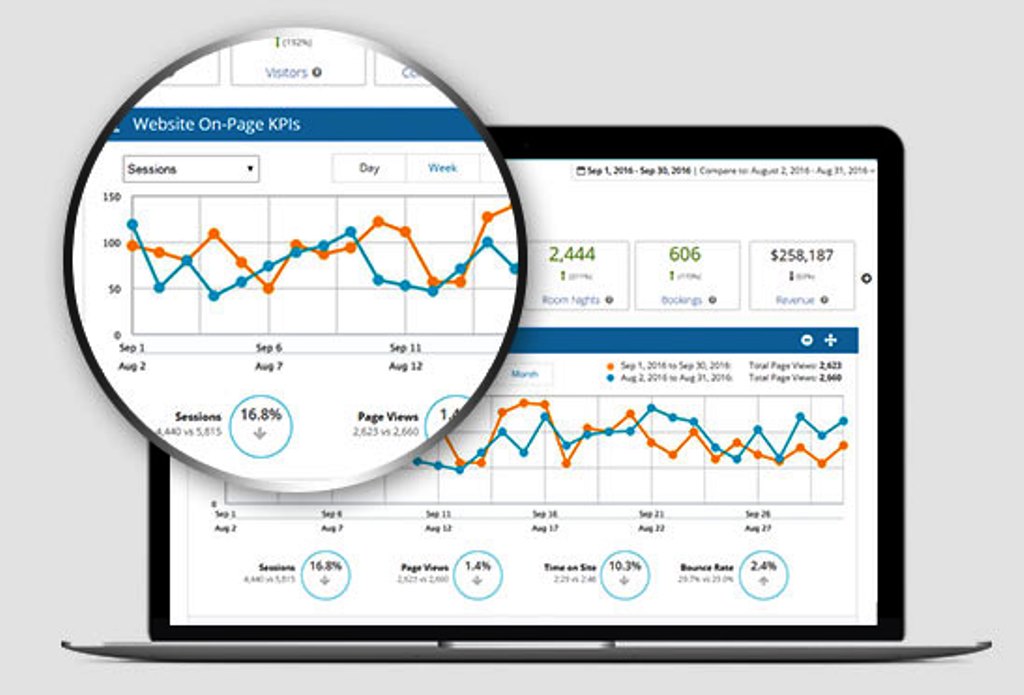 Email Marketing Analytics Tools
If a business must grow, it must not neglect email marketing. Thankfully, there are many email marketing tools to help businesses of all sizes leverage this marketing strategy. Below are the best email marketing analytics tools.
AWeber is an email marketing and automation tool that empowers you to "launch and sell your next big thing." With AWeber, you can build your audience and track everything from clicks to open rates, bounces, engagement, and conversions. Users can also set up automated emails to engage subscribers and access tons of other features.
Cost: AWeber is free for the first 30 days. After which you'll be charged based on the number of subscribers starting from $19 monthly for up to 500 subscribers.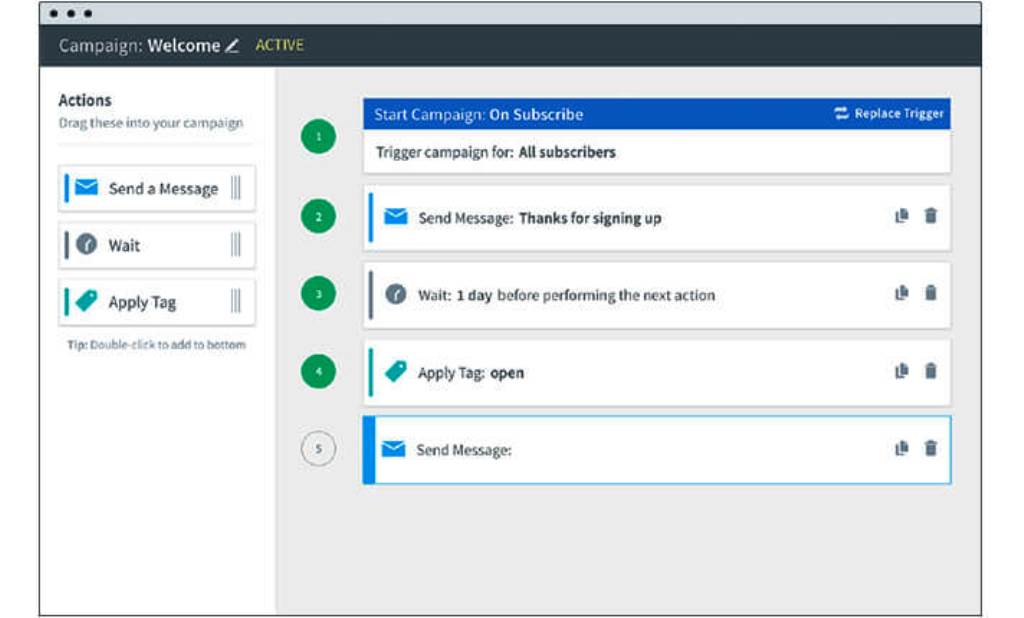 CampaignMonitor is an easy-to-use email marketing and automation tool for growing businesses. This tool reduces the chances of customers ignoring your email. It offers smart analytics that allows you to track your email marketing campaign success anywhere.
Cost: Campaign Monitor offers a tiered subscription model with the cheapest plan costing $9 monthly for up to 500 subscribers.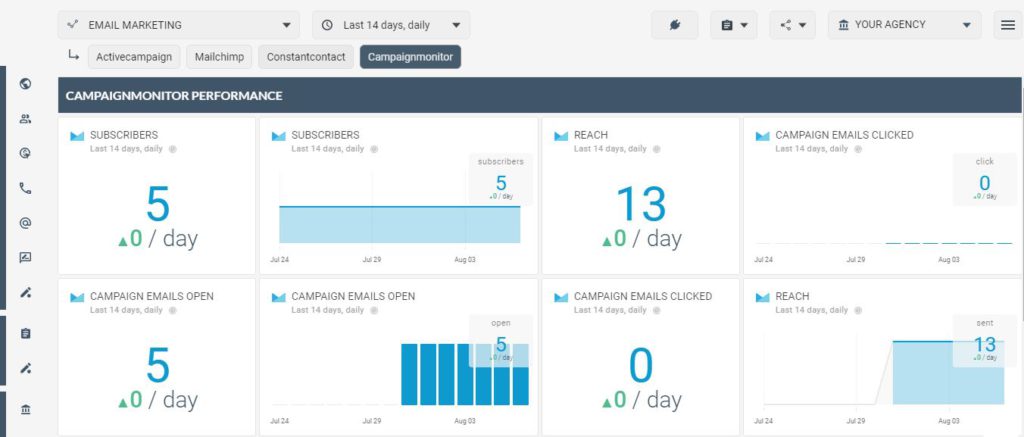 MailChimp is a cloud-based email marketing and automation tool that enables businesses to design, automate, and manage marketing campaigns across various channels. This tool helps you discover your audience, engage them, and build your brand to sell more. With Mailchimp, you can reach out to new customers, send personalized ads, and increase engagement and performance.
Cost: MailChimp offers a free plan which allows you to send up to 10,000 emails to up to 2,000 subscribers monthly. There's also the pay-as-you-go plan that gives you access to more features and integrations.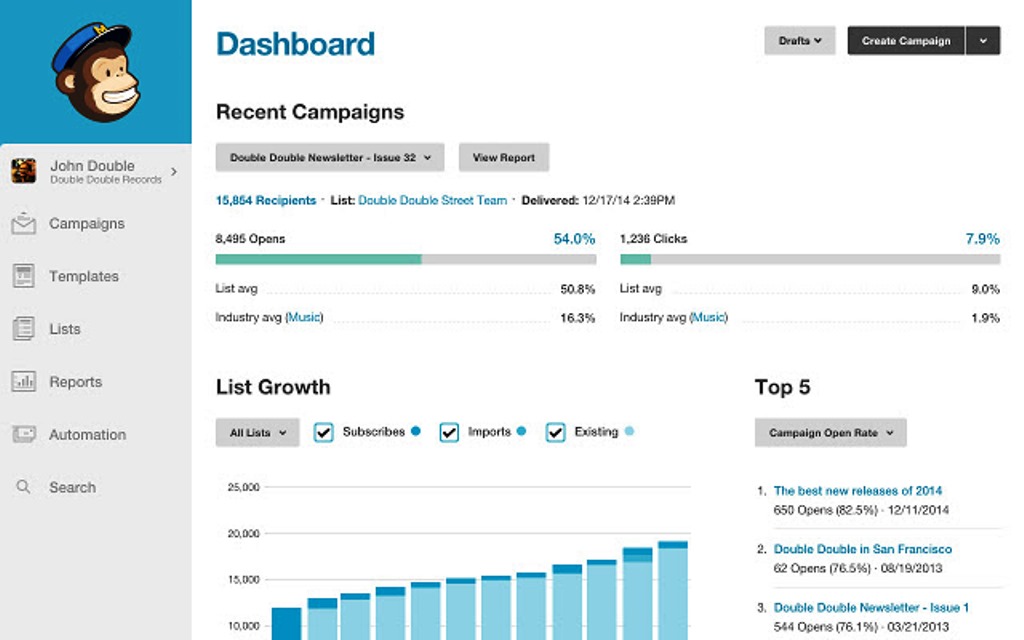 Pardot is a powerful marketing automation tool that allows marketing teams to streamline work and collect critical data. It provides more insight into your marketing, aids lead nurturing and customer tracking.
Monitor all interactions on your website from downloads to page views, open rates, and more. Pardot also offers A/B testing to allow you to identify the best strategy for engagement.
Cost: The standard plan for Pardot costs $1,000 monthly.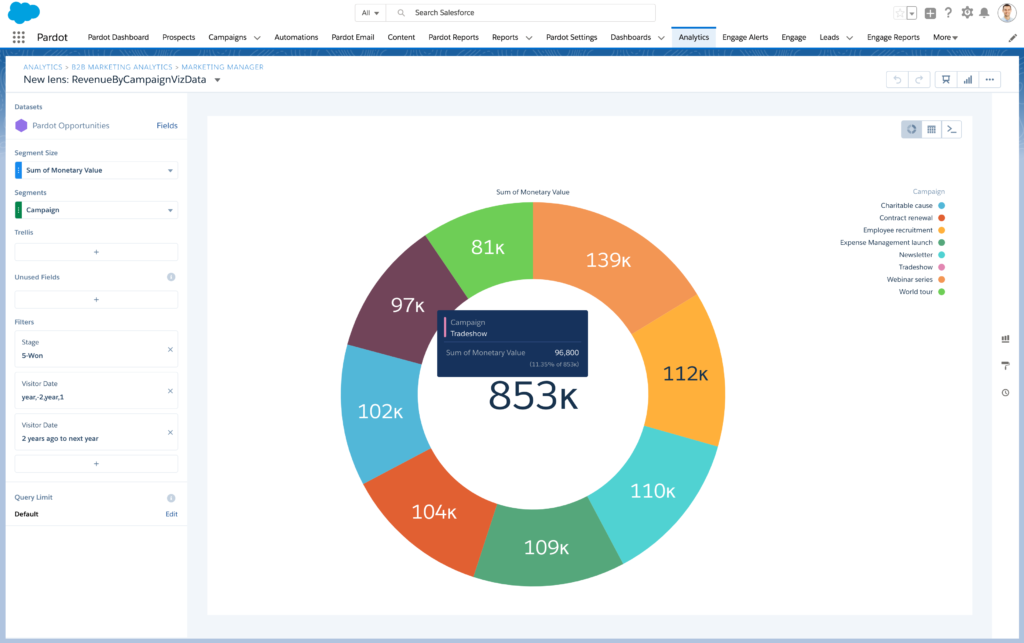 Social Media Analytic Tools
It's a tough job managing all your accounts and campaigns on various social media platforms. These apps simplify that job and allow you to achieve more ROI. Here are the best social media marketing analytic tools.
Buffer is a social media management tool, with over four million users globally. It allows you to analyze social media performance, add scheduled posts, and manage several accounts in one place. Buffer integrates with Facebook, Twitter, Instagram, LinkedIn, and Pinterest, so you can send content to all channels and monitor performance across board.
Cost: It offers a free starter plan that allows up to 3 social media accounts, 10 scheduled posts, and 1 user. To access more features, you can pay for the Pro plan at $15 monthly.
Crimson Hexagon is an AI-powered tool that provides insights into social audience, brand, and marketing campaigns. Audience analytics allows you to identify and understand your audience personas and what matters most to your brand. Crimson Hexagon brand Analysis helps you in measuring brand health and driver perceptions about your business.
Cost: Interested parties are required to contact Crimson Hexagon to get a quote based on their specific needs.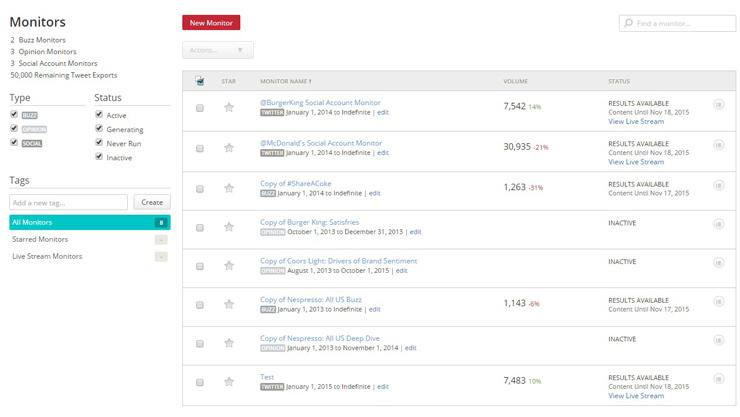 If you are looking for a solution that helps you manage all your social media marketing in one place, Hootsuite is the tool you need. Its features extend beyond posting, scheduling, and analytics. With Hootsuite, you can track social media ROI and measure conversion by social media channels with comprehensive reporting.
Cost: Hootsuite is free for the first 30 days, after which you can choose a paid plan starting at $19.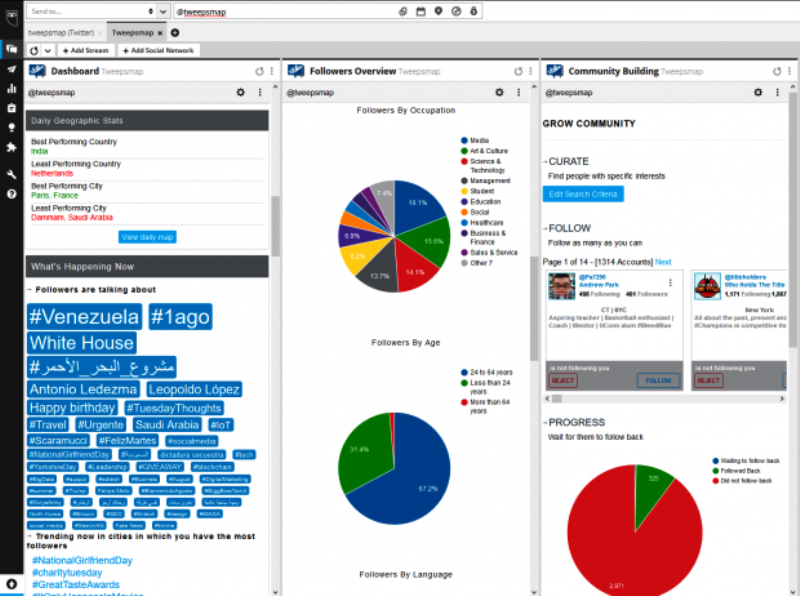 Customer Analytics Tools
To best connect with your customers, it's essential to understand their body language and respond accordingly. These tools provide visibility into your customer's behavior and decision making. Below are the best customer marketing analytics tools.
Altitude
Altitude is a unified marketing tool that provides insights into customers' trends so that marketers can make smarter decisions. It allows the tracking, cleansing, and unification of data across multiple marketing channels.
With Altitude, you can consistently measure KPIs and get a cross-view of customers' journeys.
Cost: For details about pricing, you have to contact Impact at sales@impact.com.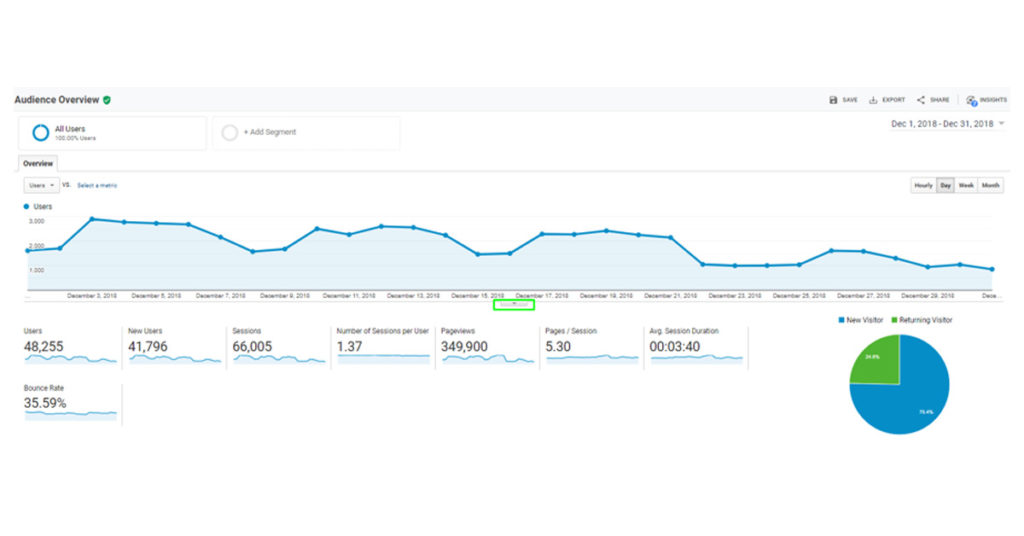 Clicktale allows you to track everything from mouse clicks to scrolls, and more. It offers the best in class visualizations that reflect on user experience and enables you to discover pressing issues with your funnel.
Cost: Clicktale offers a free limited plan that allows users to evaluate the tool, after which you will need a paid plan starting at $99 per month.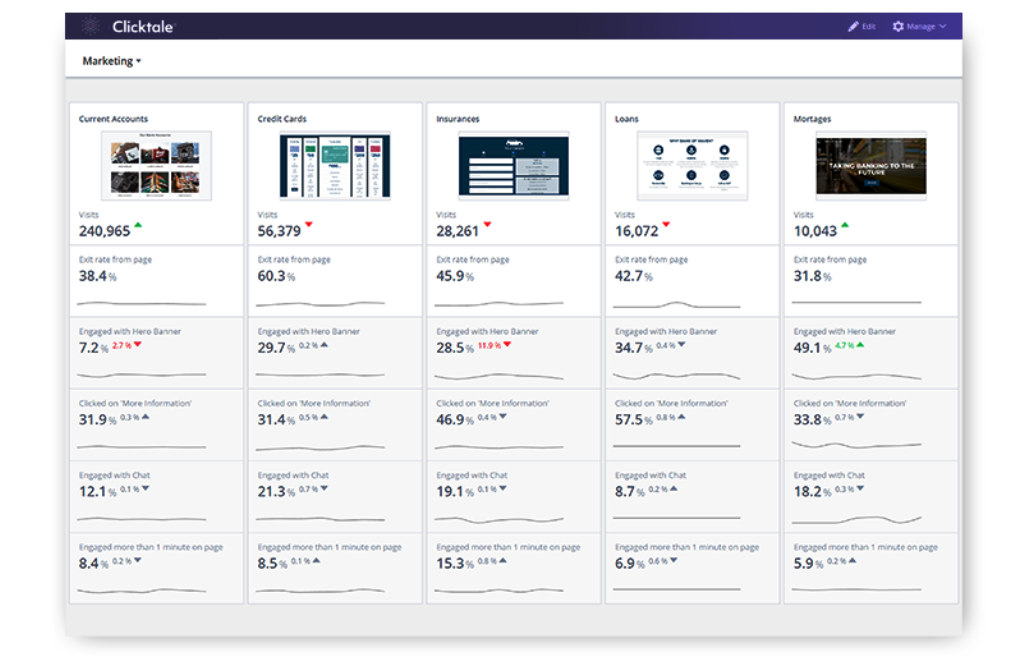 Conclusion
Before choosing any of these tools, it's essential to get a clear idea of what you are aiming to achieve. The right tool will empower you to maximize the effectiveness of your marketing efforts.