Marketing is an art. The vendor is the artist. They know how to turn a mediocre product into a presentable one. They also know how to market their goods and services. Small vendors know about their customers, their likes and dislikes, their frequency of visits, and most importantly, their budget.
With the advent of digital marketing, that small vendor analytics haven't changed much. They have inspired it and expanded the phenomena – leading to a significant global market change.
Now the sellers know what their buyers need. They shape their marketing policies according to the sale/customer analytics.
The question is: How do these digital sellers know what their client wants? That's where we introduce the concept of First-Party Data!
What Is First-Party Data?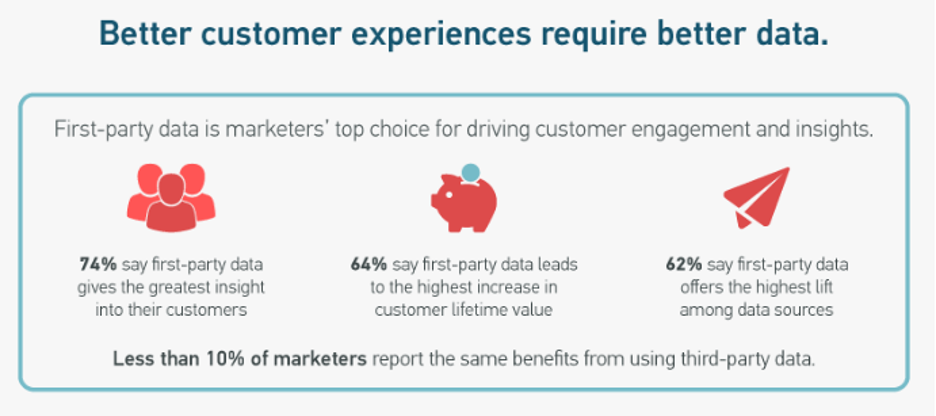 First-Party Data is such a type of data that directly involves a customer. A particular company can digitally record data from their customers.
This customer data is further compiled via software and other techniques to create useful information. That information can help a company modify its company policies and selling techniques for better sales.
The First-Party data is stored in location data, POS, purchase history, client's behavior, preferences, etc. Such data helps them create marketing policies accordingly.
Why Is First-Party Data Important?
There are multiple reasons why collecting First-Party Data is crucial for many e-business vendors. Here are some of those reasons:
1. Marketers Priority:
The procedure to capture user's data has benefitted many e-marketers. According to a recent survey, experts claim that over 85% of US marketers rely on first-party data, whereas European marketers have about 75% of people claiming the same. Most of these marketers prioritize first-party data due to its free availability, reliability, and accuracy.
2. Free Availability:
The reason first-party data has gained immense popularity is due to it being free of cost. The companies only need to ask for the users' consent before recording their data. After the consent, the companies can get hold of valuable information and provide the customers with customized services and relevant marketing.
3. GDPR Compliance:
As discussed above, the data collected by the companies are done legally – in compliance with General Data Protection Rule.
It means that by merely adding an opt-in consent form, the users allow these marketers to record their necessary data for a better online shopping experience.
4. Audience Insights:
The fact that you are directly connected with your customers will lead you to learn more about what they want. You can create multiple quizzes, tests, questions, or polls that would engage your audience more.
Moreover, you'd also know what the customer demands, what's their shopping behavior, their shopping cycle, pattern, and which products are the most and least likable.
Cookies help you to know about their location, time spending, and post-shopping activity.
5. Improved Strategies:
Like local shopkeepers, a digital marketer will know what each of their customers would most likely want. All this happens due to first-party data, as it helps in retargeting and nurturing while selling.
These retargeting strategies are frequently updated according to their customers as the new audience makes their way into your website and selling channels.
6. Customized Messaging:
Collecting first-party data can help the companies do better email marketing, which is called the most effective marketing strategy.
They can easily send their new and old customers a customized email message about new and exciting offers. This undoubtedly increases ROI and would result in gaining more customers.
7. Accurate Analysis:
Collecting first-party data through useful analytics tools would help you fetch accurate data from the source. The distance between the source and company drastically minimizes. This leaves less room for errors. One can easily verify the accuracy, and managing privacy doesn't become a big issue at all.
Different Types Of First-Party Data
So, the thing is that the companies can collect first-party data through different means and mediums. Here are some of the commonly used first-party data tracing techniques:

The Social Media
Social media has evolved from just chatting/interacting to a full-fledged marketplace. People have made groups, pages, and marketplaces on apps like Facebook. Now sellers can directly interact with their potential buyers.
They know who follows them, who asks for a price, who becomes their customers, and what they expect from your brand.
Likewise, the buyers also know which company on social media is better, what quality they can expect, and how others are reviewing a particular brand.
Social media data is a notable example of first-party data where you know what to do, how to interact, what to post, and what to reply.
The Online/Offline Stores
First-party data can also be collected offline. A prominent example of it is our retail stores. These stores keep track of their items. They keep a record of which item of theirs is selling like hot-cakes and which is not.
That's when they put discount sales on less-sold items and put special offers on hot-selling items. The result: "Significant boost in sales."
Moreover, many outlets have floor managers tending to their customers, asking about feedback that also helps them understand their customers' behavior.
Most companies have offline and online stores, so importing data from both sides and compiling them gets the first-party data and helps them make their next move.
The Behavioral Data
When a customer is surfing an online store, they scroll through different items, inquire about specific products through comments, add articles to their liked collection, and stay for a while on that website.
These analytics help you better cater to the needs of that customer. Not just one, but you can set tags and parameters that would automatically collect data on your website. You get to know what your peak time is with most clicks, and you can make better-customized ads according to that.
Cross-Platform Data
There are some fantastic customer data platforms. These cross-platforms help many websites by providing them accurate first-party data in exchange for useful information.
An excellent example of it is FoxMetrics, which provides its customers with a complete Customer Data Platform Ultimate Guide. The data provided by them is compliant, consistent, and people-based.
Such platforms help brands to plan new things for their brand and take it to new heights.
The Feedback
Whether it's social media, or online stores, or even real outlets, there's one thing you can do in all of them – ask for feedback!
Honest feedback shapes the future of companies. You can ask for customer feedback in many ways. One way is to provide a feedback comment card whenever they visit you. You can also call them for reviews or ask them for comments/posts about the feedback.
You might receive both positive to mixed to negative reviews, but each one of them holds a deep value. In this type of first-party data collection, you can compensate the customers with even better facilities.
Newsletter Subscription
When people subscribe to a company's newsletter, they allow those brands to send them deals and new arrivals.
The trick is to add newsletter-only special deals. You can also send people blogs defining your company/products. Making an email list is crucial for marketing, and you create it with the help of first-party data.
The Survey Method
Who doesn't like surveys? An excellent way to gain customer feedback is to provide them with a short survey.
These surveys can vary in the form of email, calls, quizzes, online forms, etc. These surveys will help you collect their email, phone numbers, location, age, and interests.
This type of data collection is fast, accurate, and easy to obtain.
How To Collect First-Party Data?
We know its benefits, we know how to collect, but we don't know how to collect first-party data. Unlike Social media, you don't have any effective means on your website to know the exact data.
That is when analytics tools help you. These tools help you collect, import, and execute the data. The best customer data platform these days is FoxMetrics.
Why FoxMetrics?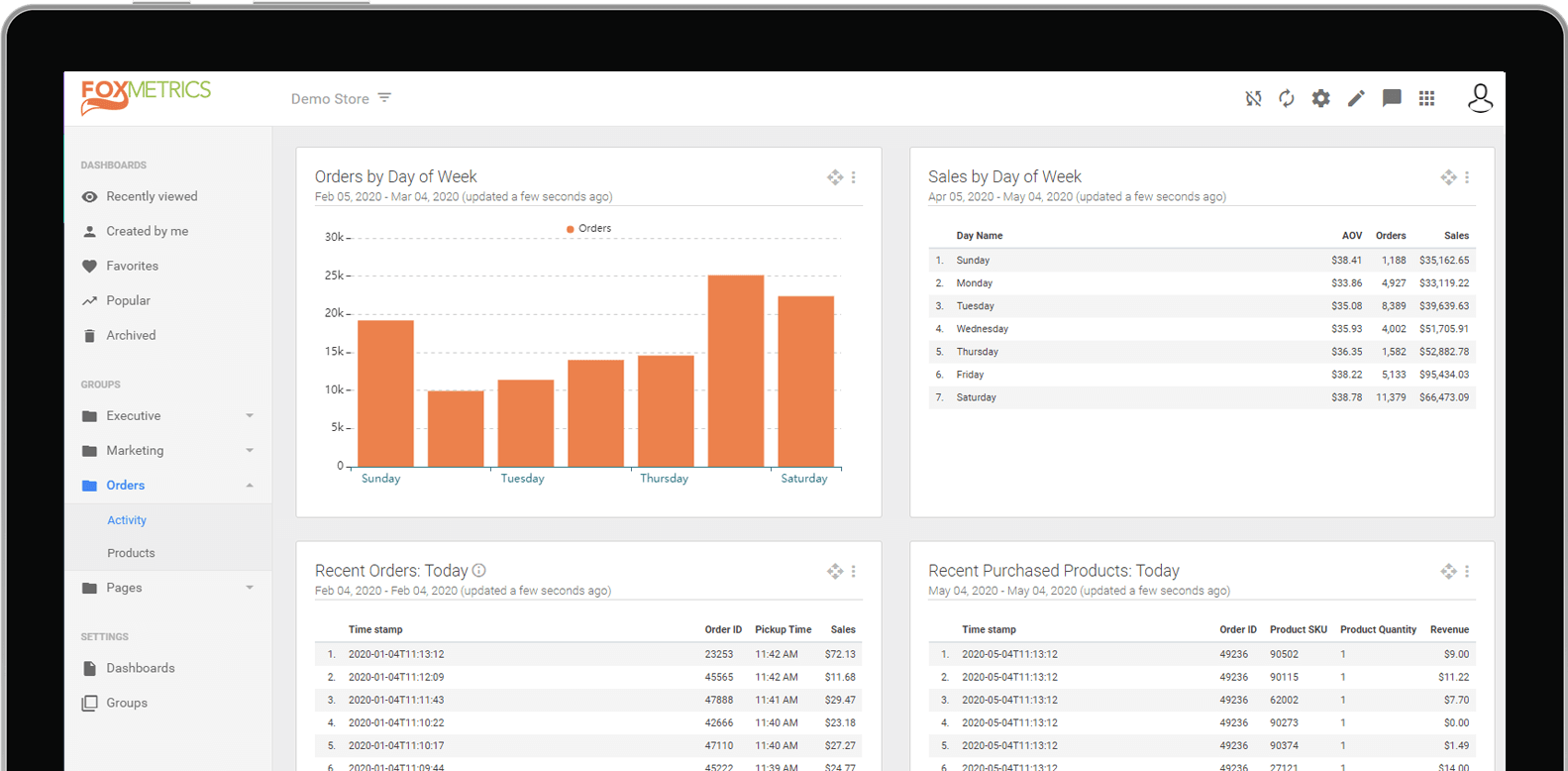 FoxMetrics is a vast warehouse of data that provides first-party data on an enterprise scale to startups and businesses.
The best thing about the FoxMetrics tool is that it collects consistent sales data from the source and provides ultimate marketing solutions to its customers.
Moreover, every individual customer gets their dedicated warehouse, which houses all their data into a single unit, retrievable by every authorized person from the company.
They also provide user dashboards, single customer view, customized models of data, a complete briefing about sales and analytics reports, data-segmentation, single-customer view, and much more.
Lastly, FoxMetrics also offer their professional services as well as customer support to all of its users. This helps them make a more reliable business relation, leading big and small businesses to grow even further.
First-party data has proven to help gather insight into users' behaviour and shopping patterns. Such data helps companies improve their marketing policies, boost their sales, and make better customer-seller relations.
Marketers need to pay more attention to first-party data if they want to move their business forward.